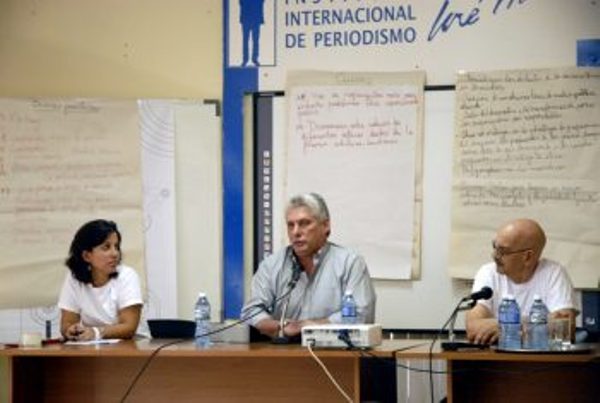 Havana, Cuba, Feb 7.- Conscious of the challenges to come and committed to their generation's mission, young journalists from around the country are meeting in Havana.
The Union of Cuban Journalists (UPEC) convoked the gathering which began yesterday, February 6, and will continue through the 8th, at the José Martí International Institute of Journalism, to exchange experiences and consider proposals for action.
During the second meeting of this kind, dialogue will focus on management of the media and the role played by youth; citizen participation; and communications within the context of the current updating of Cuba's socio-economic model.
Among proposals was the need for a national discussion within UPEC on the profession's ethics, as well as the importance of providing information about subversive ideological efforts targeting Cuban youth, and more rigorously following up on decisions made at such gatherings.
Miguel Díaz-Canel Bermúdez, Party Political Bureau member and first vice president of the Councils of State and Ministers, interacted with participants Monday afternoon, accompanied by UPEC President Antonio Moltó, and other leaders of the organization.
In his remarks, Díaz-Canel emphasized the presence of youth in Cuban journalism as important, especially in leadership positions, to directly participate in needed changes.
He encouraged the young journalists to act with audacity, and take advantage of all platforms and opportunities to share Cuba's reality, emphasizing that we live in a time of ideological and cultural war, which we will win, he said, only by developing emanicipatory, humanist communications media that promote critical thinking to confront colonizing pretensions. (Granma)
Radio Cadena Agramonte, February 7, 2017