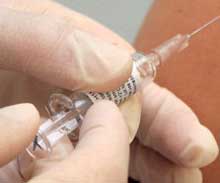 Hanoi, Aug 22.- Pharmaceutical distributors, experts, and representatives of Vietnam's vaccination centers expressed interest today in the qualities of an effective Cuban medicine to fight meningitis B and C.
This was the audience convened by the national company VABIOTECH for an exhibition by Master of Science Pablo Gonzalez, an expert from the Finlay Institute, a prestigious institution which has concentrated on researching the meningitis vaccine Va-Mengoc.
Gonzalez explained the clinical experimental path followed in Cuba, the implementation of immunizations since 1989, and the substantial decline in incidences through 2013, due to results of the biotechnological formula.
He noted that as in his country, the tests performed in Brazil with nine million minors and other tens of thousands in Argentina, Uruguay, and Colombia showed low percentages of foreseeable innocuous reactions from the vaccines. Vietnam has also benefited from Va-Mengoc, with two million children immunized since it was adopted to deal with a child illness that is quite frequent here.(Prensa Latina).