Thousands of people are marching in Caracas streets to send a message to the world: "Venezuela is a free, independent, and sovereign country".
April 27 (teleSUR) Hundreds of thousands of people are gather throughout Venezuela to celebrate the country's official departure from the Organization of American States (OAS), which occurs two years after President Nicolas Maduro sent a letter saying that this institution promotes attacks and aggressions against the South American country.
RELATED:
Russia 'Outraged' Over US Sanctions Against Venezuelan Minister
"The strong people are mobilizing to celebrate our definitive exit from the OAS, the U.S. ministry of the colonies … Venezuela is free and independent!", tweeted the president.
Maduro decided to leave the U.S.-controlled institution after the OAS Permanent Council convened a foreign ministers meeting to discuss "the Venezuelan issue" May 2, 2017.
That year, the Venezuelan government dennounced that such meetings are a clear violation of the OAS Chart's Article 1, which states that the regional institution cannot "intervene in matters of the internal jurisdiction of member states." 
"#Venezuela is independent and has sovereignty. Yankees go home!"#HandsOffVenezuela pic.twitter.com/qazJl9N9aW

— teleSUR English (@telesurenglish) April 27, 2019
teleSUR English@telesurenglish
"#Venezuela is independent and has sovereignty. Yankees go home!"#HandsOffVenezuela17811:30 AM – Apr 27, 2019103 people are talking about thisTwitter Ads info and privacy
At the time, Vice President Delcy Rodriguez indicated Maduro's letter was a milestone in the history of the defense of Venezuelan independence and sovereignty, and Latin American dignity.
"We will never again be a colony of any empire. Nor will we give up the sacred sovereignty that our people demand!," said the official.​​​​​​​
The United Socialist Party of Venezuela (PSUV) called for the major demonstrations that in Caracas will go from Morelos Square to the Foreign Affairs Ministry.
"We are not a U.S. colony. We believe in Simon Bolivar and Hugo Chavez whose project was based on Latin American integrity and rejected subordination to imperialism," the PSUV Vice President Dario Vivas said at the rally to crowds, adding that people are sending a message to the world about Venezuelan sovereignty and independence.​​​​​​​​​​​​​​
During last week's OAS session in New York, representatives from the Venezuelan government were banned from being within a 40-mile radius of the meeting, and instead were replaced by representatives from the the self-proclaimed interim president of Venezuela, Juan Guiado, backed by the U.S. and the Lima Group.View image on Twitter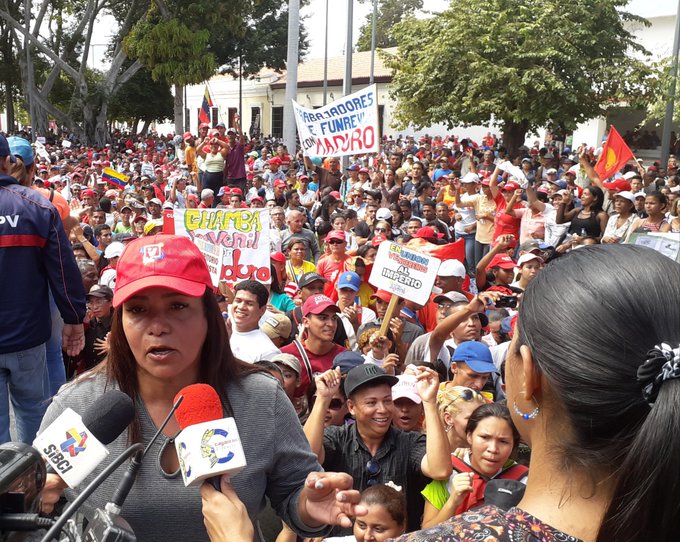 Maria Elena Rodriguez@MariaElenaR01
El Pueblo del Estado Sucre Salió a las Calles en una Gran fiesta Popular a celebrar nuestra salida Definitiva de la OEA, Venezuela es un País Libre, Independiente y Soberano, no somos Colonia, ni patio trasero de nadie, Venezuela se Respeta!! @NicolasMaduro @FidelVasquePSUV310:47 AM – Apr 27, 2019See Maria Elena Rodriguez's other TweetsTwitter Ads info and privacy
"The State of Sucre's people took to the streets in a great popular celebration to celebrate our definitive departure from the OAS. Venezuela is a free, independent and sovereign country. We are not colony, nor anyone's backyard. Respect Venezuela!!"
OAS and its Secretary-General Luis Almagro has openly supported Guiado and a "military intervention aimed at overthrowing the regime of Nicolas Maduro" in Venezuela, parroting several high-ranking officials in the U.S. Trump administration, including the president himself.
"The Secretary-General has become a vehicle of the conflict against Venezuela. … He has openly called for coup d'état and insurrection," said Samuel Moncada, who was the Bolivarian ambassador at OAS in 2017 and is now Venezuela's ambassador at the United Nations.
"Departing from the OAS is an act of independence and sovereignty," the ambassador said and added, "we are leaving an organization that is basically at service of the U.S. That is why we should celebrate [our decision] as an act of independence."​