President Nicolas Maduro warned any foreign attack will be responded by "all the people" of Venezuela in a civic-military alliance.
Dec 28 (teleSUR) Venezuelan President Nicolas Maduro denounced Friday that international forces are trying to divide the country to seize its natural resources and wealth.
RELATED:
The president issued the warning during a new year's ceremony with the Bolivarian National Armed Forces. During which he warned: "Venezuela has a strategic concept of defense that has been built through the centuries and that implies 'a war of all the people' for the civic-military defense of peace, sovereignty, territorial integrity, and the Constitution."
President Maduro also urged the Venezuelan armed forces to be alert "in the face of conspiracies" and the corruption that seeks to weaken the integrity of the military and ordered them to double their efforts to protect the border and guarantee peace for all Venezuelans.
The Bolivarian Republic has faced several threats of military invasion, including from former United States Secretary of State Rex Tillerson. The U.S. has also led an international campaign to isolate the South American nation diplomatically and promoted economic and financial sanctions that have had a perilous effect on the Venezuelan economy.View image on Twitter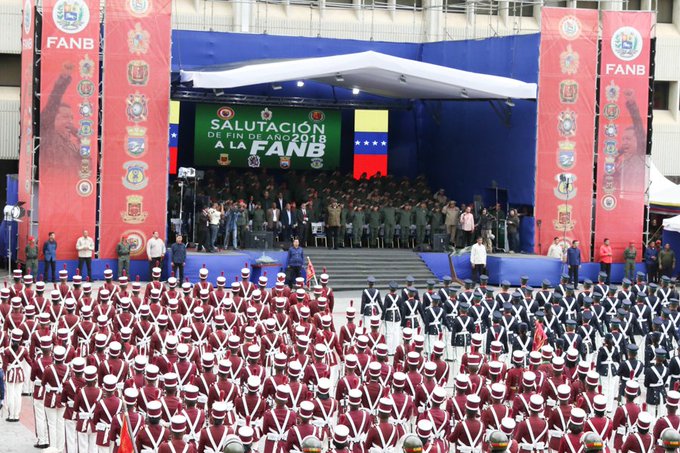 Prensa Presidencial@PresidencialVen

#EnVivo | "Quieren debilitar a Venezuela, dividirla, enfrentarla, para ponerle las garras a nuestro país y robarnos los mares, el petróleo, las riquezas ¡Indignante!", afirmó el jefe de Estado @NicolasMaduro2959:50 AM – Dec 28, 2018562 people are talking about thisTwitter Ads info and privacy
"They want to weaken Venezuela, divide it, pit us against each other to drive their claws into our country and steal our seas, the oil, the wealth. Outrageous!," the head of state said.
Maduro has responded to these attacks by strengthening alternative forms of regional integration with Latin America and the Caribbean and launching economic policies such as the creation of the cryptocurrency Petro, pegged to the countries oil and gold resources.
"Venezuela is in the eye of the hurricane because of a fight for dignity and for peace … Venezuela is in the historical struggle and is determined to be a Republic," the Venezuelan leader told the country's military.
President Maduro also recognized and praised the work of the military. "Venezuela will not kneel before any foreign oligarchy or empire," President Maduro said in Fuerte Tiuna, in the capital city of Caracas.
In August, Maduro survived an assassination attempt against him. Since then, the government has identified members of the political opposition as responsible andthe U.S. and Colombian governments as accomplices.
Tags