"I hope the UN can help create the conditions for a great peace dialogue in Venezuela," said President Nicolas Maduro.
Jan 12 (TeleSUR) Venezuelan President Nicolas Maduro has requested the support of the United Nations in launching a peace dialogue with opposition sectors.
RELATED:
Venezuela: 'Bolivarian Diplomacy of Peace Has Triumphed'
Speaking Saturday during a meeting at Miraflores Palace, the government headquarters in Caracas, Maduro said: "Peace, justice and solid institutions, the sustainable development goal number sixteen.
"There the UN has to help us… in the dialogue for peace, mutual recognition, harmony, coexistence, the coexistence of different political visions."
The meeting was held to discuss the advancement of social programs within the framework of the Sustainable Development Goals (SDGs) of the 2030 Plan, of which the South American nation is a part.
Along with members of the executive cabinet, the Venezuelan leader stressed that the 17 objectives contained in the UN program were included in the national budget for 2019, and in the Plan de la Patria 2019-2025, which he will present Monday at the National Constituent Assembly (ANC).
"I would like to sit down with the opposition, stop the sterile, useless, unnecessary conflict, talk about economic issues; with the experience of the UN we can achieve it," he said, asking the international organization for its support to end the U.S.-backed trade blockade against Venezuela.Ver imagen en Twitter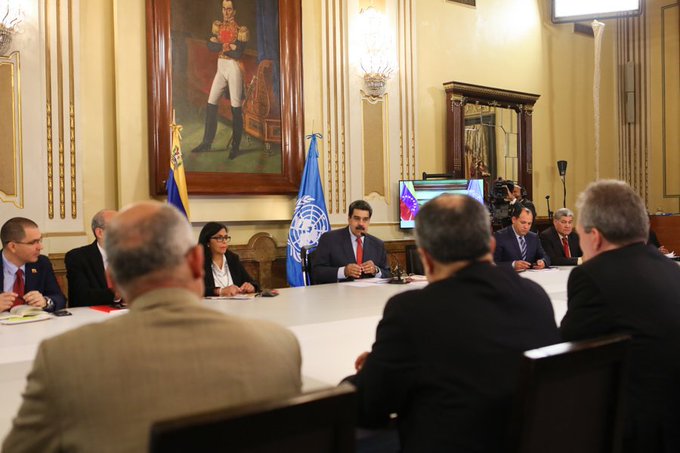 Pdte @NicolasMaduro: Como país hemos asumido plenamente el programa de la ONU conocido como el Plan 20/30. Este plan busca llevar prosperidad sin lugar a dudas. Si la humanidad cumpliera con esta agenda tuviéramos un mundo mejor, más feliz.#VenezuelaSeRespeta35612:50 – 12 ene. 2019594 personas están hablando de estoInformación y privacidad de Twitter Ads"Nicolas Maduro: As a country we have fully assumed the UN program known as the 20/30 Plan. This plan seeks to bring prosperity without a doubt. If humanity fulfilled this agenda we would have a better, happier world."
Reviewing collaboration with the UN over the last decade, the president emphasized progress in education, employment, housing and the pension system.
They are "common goals to address the great issues of the development of humanity… multilateralism, a world of balance as the liberator Simon Bolivar dreamed," Maduro said.
Finally, the president said all UN agencies "have their doors open" in the nation, and reiterated his invitation to the High Commissioner for Human Rights Michelle Bachelet to visit Venezuela.
The resident coordinator of the United Nations System in Venezuela, Peter Grohmann, ratified "all the support" to the Venezuelan government and people to achieve the 2030 Agenda, which covers development and was created with the support of the entire UN.
The UN representative called for a joint effort with the government and civil society to "address the needs of the population as it is going through a complicated situation and obviously we have to take it to sustainability in the future, to achieve this in Venezuela we must have the data from the different social areas so that progress can be monitored."