Howard Reich – Contact Reporter, Chicago Tribune – February 24, 2018
Two concert grands. Two colossal virtuosos. One indelible evening.
Granted, listeners who packed Orchestra Hall in Symphony Center on Friday evening already had high hopes for Cuban piano masters Chucho Valdes and Gonzalo Rubalcaba, judging by the long and raucous ovation that greeted them before they played a note.
But their music exceeded expectations, and not because the pianists played faster, louder or more brilliantly than their reputations suggested. No, it was the clarity, balance, sensitivity and tonal sheen of their work that made this a model of what two-piano improvisation can be — but rarely is. Add to that the well-established wizardry of their technical achievements and the Afro-Cuban pulse of all the music they played (albeit at widely varying tempos), and you had an avalanche of piano virtuosity on a level rarely attained.
Had Valdes and Rubalcaba been paid by the note, they could have retired when they left the auditorium (not that they would have wanted to).
Amid the keyboard fireworks and profoundly stated musical ideas, another theme was at play: a dialogue between pianists of two generations, both born and nurtured in Cuba and now living within minutes of each other in Florida. The tug between their distinct concepts of harmony and musical structure enriched their dialogue, the audience hearing 76-year-old Valdes and 54-year-old Rubalcaba viewing Afro-Cuban tradition from distinct perspectives.
And yet they matched tone and touch so closely that from the evening's first selection, Rubalcaba's "Joan," you sometimes couldn't tell which pianist had begun a solo without looking. As the music segued between the two, each replicated the timbre of the other, a feat far more difficult to achieve than they made it appear.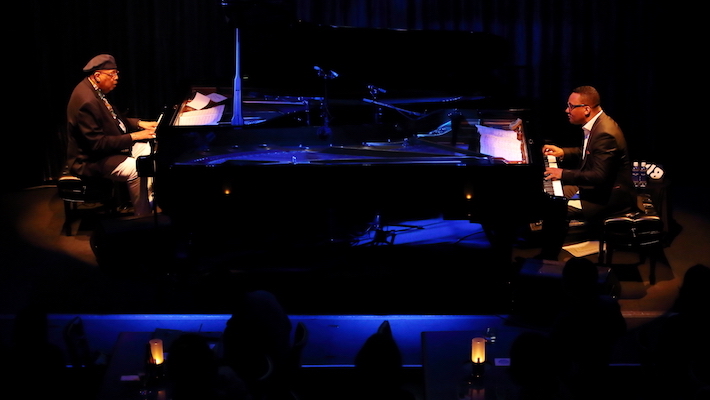 "Joan" opened as a lullaby, Rubalcaba's softly stated legato lines not hinting at the storms yet to come. Valdes entered the proceedings by echoing what he'd heard, the two pianists intertwining lines as if from a single instrument and sensibility. It's in transparent passages such as these that duo pianists reveal their strengths and shortcomings. And it was obvious that these musicians felt rhythm in sync, thereby avoiding the painfully common ker-plunk effect of two musicians struggling to nail downbeats simultaneously.
During one of Valdes' solos in "Joan," he quoted a composer he would return to throughout the evening: George Gershwin, this time with a few phrases from the first movement of the Concerto in F. When Valdes played them, he looked up and smiled, as if half-surprised that Gershwin suddenly would assert himself in the midst of the music-making.
Valdes' "Mambo Influenciado" not only lived up to its title but offered the pianists an opportunity to produce showers of notes at remarkable velocity. Playing zillions of pitches quickly, however, is not an art. Doing so from two pianos, while maintaining the clarity of each note and sustaining utter transparency of ensemble sound, is. For in this piece, and others, Valdes and Rubalcaba took pains to work in different registers of their respective keyboards and to otherwise avoid too-thick blocks of sound. Thus the music proved texturally lucid no matter how fast and furiously these 20 fingers were flying.
As the evening developed, however, distinctions between the pianists' work became increasingly clear. Valdes conjured herculean, Art Tatum-like technique in Valdes' "Punto Cubano," while Rubalcaba offered a light, sleek, even-keeled approach to high-speed passagework. And though Valdes punctuated bebop-tinged chord progressions with bursts of keyboard dissonance, Rubalcaba continuously pushed into provocative, unfamiliar harmonic regions. Both, however, reveled in quoting from the history of Western music, Valdes offering snippets of "Flight of the Bumblebee" and "Ritual Fire Dance," Rubalcaba responding with a bit of Chopin's "Minute" Waltz and the jazz standard "Mona Lisa."
Valdes tipped his hat again to Tatum in playing solo on "Over the Rainbow," at times reharmonizing it via immense, Rachmaninoff-like chords. Once again, Gershwin appeared, this time with quotations from "Rhapsody in Blue."
Rubalcaba's solo version of "El Manisero" ("The Peanut Vendor") illuminated the searching quality of his approach, the pianist constantly shifting tempo, sabotaging patterns and venturing into rarefied harmony. It's not an overstatement to say that Rubalcaba's most technically ambitious passages here evoked Vladimir Horowitz, a comparison one does not make lightly.
The two pianists made a fantasy of the "Gitanerias" movement of Ernesto Lecuona's "Andalucia" suite, creating vast new melodic and harmonic structures upon it. And who could sit still during the surging energy they gathered in Juan Tizol and Duke Ellington's "Caravan," Rubalcaba's jazz countermelodies and Valdes' Gershwin-like repeated notes riding an unstoppable rhythmic pulse?
This was duo jazz pianism cast as high art, a rare occurrence indeed.
Howard Reich is a Tribune critic.