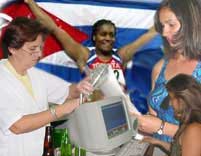 Camaguey, Mar 21. – The setting up of the chair Genre, Family and Society has been an important step in the struggle for consolidating the levels of equality and opportunities for women in Camaguey province.
Coordinated by the University of Camagüey (UC) and the Federation of Cuban Women (FMC), this department is comprised of specialists in genre-related matters.
Researches on various issues of concern for women which propitiate their development in all sectors of society have been some of the achievements attained by the chair.
Nearly 30 specialists of higher education institutions, the FMC and other organizations are members of the group which is doing a remarkable work for the full equality of rights, opportunities and possibilities between men and women. (Mariela Peña Seguí/Radio Cadena Agramonte).