May 1, 2014 (Prensa Latina) – The Permanent Mission of Cuba to the UN carry actions to circulate at UN the island's refusal for  its inclusion in the unilateral list of countries promoting terrorism, annually elaborated by US.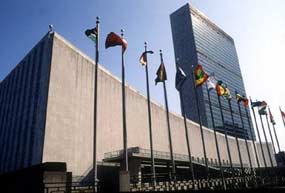 Among the activities to be developed there are the spreading to the representations accredited to the organization made up of 193 members of the denunciation made by the Foreign Affairs Ministry, diplomatic sources confirmed to Prensa Latina.
The ministry issued a statement on the eve on which it was labeled ridiculous the designation of Cuba as 'State sponsoring terrorism', that Washington carries out for 32nd occasion.
In addition to energetic handling of such a sensitive issue the government of the island reiterated that United States uses that political resource to justify the blockade they impose to the Caribbean island for more than half a century, despite of the almost unanimously international condemnation.
Other actions of the Cuban mission have to do with the request that the complaint be issued as an official document linked to the issue of terrorism and its circulation in organs of the UN system responsible for addressing the issue.
Havana considers that Washington has no moral authority to accuse other nations, because it is precisely the northern government that has used state terrorism against countries opposed to its domination.