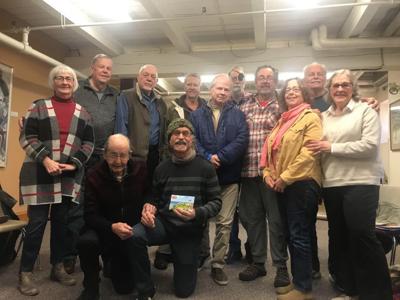 Ricentral.com – Narragansett Times — March 7, 2020
By Allie Lewis
SOUTH KINGSTOWN— Sixteen members of the South County community will be embarking on a trip to Cuba next month to meet with and learn from people of the island nation. 
The delegation of travelers will be making the journey with Witness for Peace, a non-profit, grassroots organization that seeks to change "policies and corporate practices that contribute to poverty and oppression in Latin America and the Caribbean."
South Kingstown residents Martin Lepkowski and Taylor Ellis, who've both traveled with Witness for Peace in the past, were inspired to lead a new delegation after hearing a Cuban global economics professor speak at Peace Dale Congregational last summer. Multiple members in the audience that night had previously traveled to Cuba, though hadn't been back in decades.
"I was in Cuba in 2000, and I saw first-hand the impact of the embargo," Lepkowski told his fellow travel companions last week, crowded in the basement of the Peace Dale Library. "I'm very curious to find out what it's like now."
When Lepkowski first traveled to Cuba, the embargo had not yet been temporarily lifted. Some of his fellow travelers were able to make their way to Cuba before restrictions were put back in place, though a few also traveled there before the United States broke off relations.
Community member John Kotula previously visited the island nation on three separate occasions — the first of which was in 1958. He'd only been 12 or 13 years old at the time, and his father went to gamble.
"We stayed until he lost all of his money and then we came home," Kotula said. "While he was in the casinos, I was just wandering around the streets of Havana."
He was unaware of what was happening in Cuba at the time, but has since made two other trips to the island. His most recent trips were to study Cuban artwork, often celebrated by the arts diverse cultural blend of African, South American, European and North American elements.
Liz Diaz also traveled to Cuba with her family before the embargo was put in place, but was sent home early when the United States cut off diplomatic relations. She was 12 years old at the time.
"We have memories of being in the Havana Hilton and being boosted up to look into the windows of the door to the kitchen, and seeing [Fidel] Castro washing the dishes," Diaz said.
She's also made a trip back to Cuba. In 2016, Diaz traveled with a Witness for Peace delegation. It was a wonderful experience, she said, and it allowed her to interact with the people and the culture. For her fellow travel companions who've never been, she assured them that they'll also have a great time.
Charlestown resident Bob Beggs is among those who've never made the trip, though he's curious and eager to learn more about the Cuban Revolution, socialism, healthcare, and policies that have shaped the nation. Self-described as a lifelong social activist, Beggs makes up an eclectic mix of community members also making the journey.
Also traveling to Cuba are two retired priests, retired healthcare providers, an attorney and other individuals from a variety of professions and backgrounds.
Lepkowski, who's been actively involved with Witness for Peace for 30 years and has traveled to multiple Latin American countries affected by United States policies, said delegation members will have a unique opportunity to come back and share what they've learned.
Upon their return, members of the delegation will be hosting a discussion at Peace Dale Congregational Church on Tuesday, May 19.