The revolutionary multi-party alliance that ended Apartheid supports the Venezuelan government and people.
March 28 (teleSUR) The Gauteng Province Secretary of the African National Congress (ANC), Jacob Khawe, welcomed Wednesday Venezuela's Foreign Minister Jorge Arreaza to "the Solidarity Assembly with Venezuela" and condemned U.S. President Donald Trump's sanctions against the Latin American country.
RELATED:
Venezuelan Gov't Reveals Evidence Related to Electric Sabotage
"The fight for freedom must go on until it is won," Khawe said quoting Oliver Tambo, a late revolutionary who served as ANC President from 1967 to 1991, a period in which the anti-apartheid leader and former President Nelson Mandela was a political prisoner.
During his speech, the Venezuelan Minister expressed his happiness and gratitude for the affection expressions that the South African government and people showed for his country.
"The battle for Venezuela's sovereignty is also taking place at the international level, and the support of the governments and peoples across the world allows us to face the threats," Arreaza said and commented that "we have held several meetings with government officials and… we feel support wherever we go."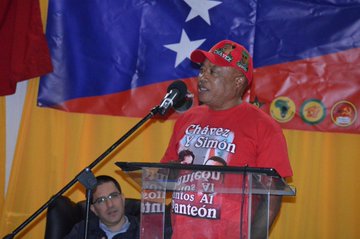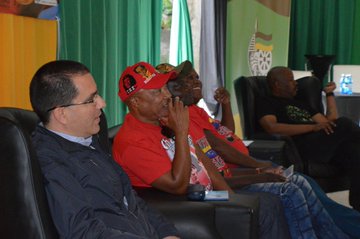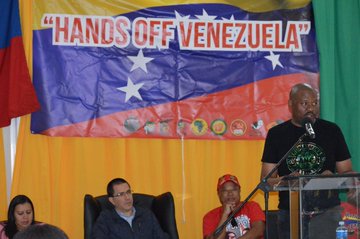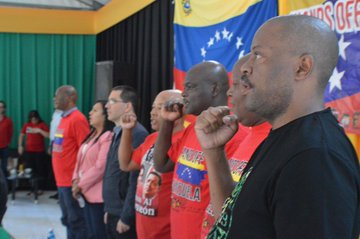 "Thanks to international solidarity, the people of # South Africa were able to defeat the apartheid regime, our comrades from #Venezuela came here to support the #saharaui people, count on all our solidarity" says Tony Yengeni, @MYANC Congreso Nacional Africano: @AJEnglish312:18 PM – Mar 27, 2019See @COSATU Today's other TweetsTwitter Ads info and privacy
The solidarity event was held in Gauteng and organized by the Tripartite Alliance, a revolutionary force which brough together the ANC, the Congress of South African Trade Unions (COSATU) and the South African Communist Party (SACP) in the early 1990's.
Besides conveying support messages, this international meeting was conducive to the exchange of experiences and the analysis of the global political situation. The participants agreed that the U.S. blockade against Venezuela, which has no basis in international law, is a real crime against humanity.
"In the past, you were able to stand up thanks to international solidarity. Now it's time to help Venezuela. The U.S. is preventing our economy from functioning. We work with Russia, China, Turkey, and India. Sometimes we send them oil and we buy goods to import them to Venezuela. This is something we could do with South Africa," Arreaza said as reported by RFI, an African media.
South Africa stood behind President Nicolas Maduro at the United Nations Security Council meeting held on Feb. 28, where it voted against the U.S. request of new elections in the Latin American country.
On that occasion, the South African government stated that it "could not support the U.S. resolution as it reflected a serious bias… which goes against South Africa's Constitution and foreign policy, as well as the letter and spirit of the Charter of the United Nations," as the Daily Maverick recalled.