Russian Foreign Minister Sergei Lavrov and Venezuelan Foreign Minister Jorge Arreaza
May 4 (teleSUR) Russian Foreign Minister Sergei Lavrov will hold talks with his Venezuelan counterpart, Jorge Arreaza Sunday in Moscow, Interfax reported Saturday citing the Russian foreign ministry.
RELATED:
US Seeks Meeting with Russia to Talk About Venezuela Situation
The meeting will take place ahead of rare face-to-face talks between Lavrov and United States Secretary of State Mike Pompeo amid U.S.-Russian differences over political events taking place in Venezuela. The two diplomatic leaders will talk on the sidelines of the 11th Arctic Council Ministerial Meeting taking place in Finland next week.
Russian President Vladimir Putin told U.S. President Donald Trump that any external interference in Venezuela's internal business undermines the prospects of a political end to the situation in Venezuela, the Kremlin said.
During a Friday afternoon phone call between the two leaders, Trump came away telling reporters: "He (Putin) is not thinking at all about gettinginvolved in Venezuela. … He wants to see something positive happen in Venezuela, and I feel the same."
Trump's statement contradicts earlier comments made by his National Security Advisor John Bolton and Pompeo who, during a U.S.-backed attempted golpe of Venezuelan President Nicolas Maduro this week, falsely accused the Russian and Cuban militaries of somehow intervening in Venezuela. ​​​​​​​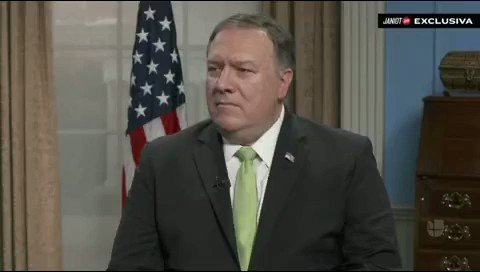 El @secpompeo no halla como explicar que todo lo que dijeron el martes era tan Fake que @realDonaldTrump tuvo que salir a desmentirlo. Para colmo contradice a sus propios equipos al afirmar que las sanciones y bloqueo no ocasionan sufrimiento y escasez. #TrumpDesbloqueaVenezuela6836:39 AM – May 4, 20191,189 people are talking about thisTwitter Ads info and privacy@secpompeo can't find how to explain that everything they said on Tuesday was so Fake that​​​​​​​ @realDonaldTrumphad to deny it. To top it off he contradicts his own teams by stating that sanctions and blockages do not cause suffering and shortages. #TrumpDebloqueaVenezuela
Russian Deputy Foreign Minister Sergei Ryabkov told the news agency TASS: "Yes, the meeting has been agreed on," ​​​​​regarding the encounter next week between Lavrov and Pompeo expected to happen in Rovaniemi, Finland.
In the lead up to the meeting, Lavrov said this week that Russia and the US have "incompatible" positions on Venezuelan affairs, but that he's still willing to talk with Pompeo.
Lavrov said on Thursday: "Although U.S. Secretary of State Mike Pompeo and I agreed to continue contacts, I do not see how it is possible to combine our positions." The foreign minister said Russia supports the U.N. Charter and international law to bring stability to Venezuela. The US, on the other hand, says Lavrov, is trying to install the self-declared interim president, Juan Guaido, as Venezuela's leader and is leveraging "suffocating" sanctions against the country in order to overthrow the Maduro government.
RELATED:
Cuban Top Diplomat: John Bolton Is a Pathological Liar
President of the United Nations General Assembly, Maria Fernanda Espinosa, condemned Friday a possible military intervention in Venezuela by the U.S., which the Trump administration has openly advocated for several times.
Espinosa stressed the need to solve problems in Venezuela through internal dialogue between the government and opposition delegations in order to find diplomatic and peaceful solutions, according to spokesperson, Monica Grayley.
"Espinosa believes that it is very important that all actors try to reduce tensions," Grayley said, adding that United Nations Secretary General Antonio Guterres also advocates a dialogue-based solution.