Venezuelan top diplomat Jorge Arreaza stressed that the suffering in Venezuela is due to Washington's economic war against the South American country.
May 5 (teleSUR) Foreign Ministers of Russia and Venezuela, Sergey Lavrov and Jorge Arreaza, held a press conference Sunday in the Russian capital Moscow,in which both diplomats urged strengthening dialogue mechanisms that advocate a peaceful solution in the South American country.
The Russian foreign minister called on the United States to respect international law established according to the United Nations Charter, while reiterating Russia's support for a peaceful dialogue in Venezuela. He also urged the United States to cancel its "irresponsible" plans to oust President Nicolas Maduro.
For his part, Arreaza stressed that the suffering in Venezuela is due to Washington's economic war against the South American country. "Today in Venezuela, the suffering we endure is thanks to how the financial system has blocked our resources."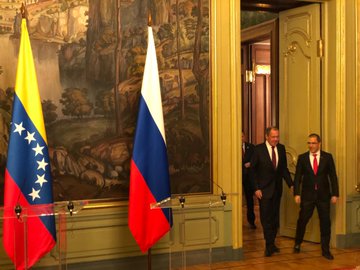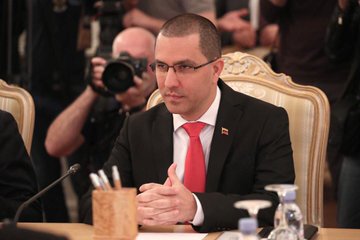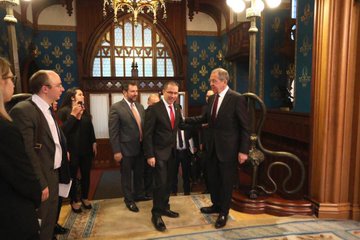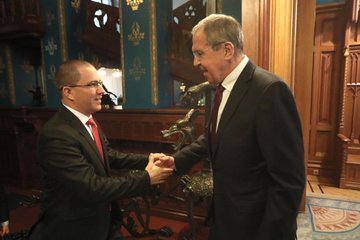 teleSUR English@telesurenglish
#InPictures | Foreign Ministers of #Russia #SergeyLavrov and #Venezuela @jaarreaza in search of an international strategy to promote dialogue and strengthen their relationship. Both representatives reject the destructive approach of the #US. #HandsOffVenezuela5110:45 AM – May 5, 201947 people are talking about thisTwitter Ads info and privacy
He added that the Maduro government continues its calls on the Trump administration for dialogue along with the Venezuelan right-wing opposition so "we are sure that the commitment of the dialogue will prevail over Venezuela."
The meeting comes just days after the failed coup attempt in Venezuela by oppositional lawmaker Juan Guaido and his right-wing allies in the country. The coup received the support of the United States government and its right-wing allies who have recognized Guaido as the country's "interim president" three months ago, after he illegally slef-declared himself as such on Jan. 23.
The Russian top diplomat is expected to meet with his U.S. counterpart Mike Pompeo next week in Finland where the two will discuss the Venezuelan sitiation. President Donald trump and his Russian counterpart Vladimir Putin spoke on the phone Friday where Trump said the two agreed that a "positive outcome" was needed for the Venezuelan political situation.
The Trump administration has in recent years escalated the U.S. decades-long aggressive policy against Venezuela, as he imposed hars economic sanctions against Caracas, including sanctions against oil that many experts have warned against considering the impact on global markets.
A study released late last month by the Center for Economic and Policy Research (CEPR) revealed that 40,000 Venezuelans have died since August 2017 as a result of the economic sanctions imposed by the United States as the Maduro government struggled to get medicine and supplies for patients. ​​​​​​​