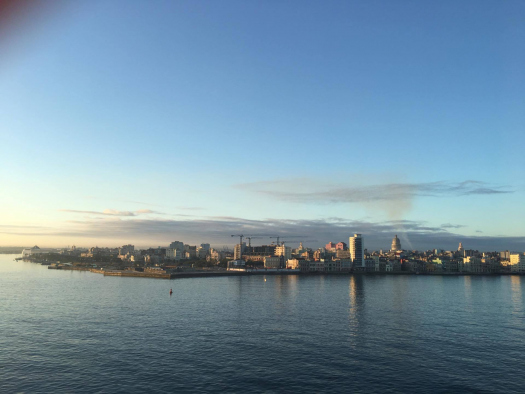 photo by Halee Whiting
April 23, 3017 | Royal Caribbean's Empress of the Seas arrived in Havana, Cuba earlier this morning, marking the first Royal Caribbean International ship to stop in Cuba.
Empress of the Seas departed Miami earlier this week, as part of a 5-night sailing that culminated with an historic first visit to Cuba. The cruise has been filled with a number of special events and festivities, from cortaditos and café con leche in Café Royal to salsa music and dancing in the Boleros Latin lounge.  There was even a special Cuban-inspired dining room menu.
After months of negotiating, Royal Caribbean announced it would offer cruises to Cuba in December 2016.  Royal Caribbean offers regular sailings to Cuba, including some sailings with an overnight visit, through the end of 2016, along with stops in Key West, FL. and Cozumel, Mexico.