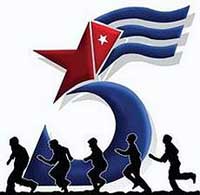 Porto Alegre, Brazil Jun 27.- In the midst of the World Cup, Brazilians today demanded the release of the Cuban Five, who remain imprisoned in the United States for preventing military actions against Cuba.
The members of the José Martí Cultural Association of Rio Grande do Sul took advantage of the presence of fans from various countries to distribute pamphlets and expose arbitrary reasons given to put Gerardo Hernandez, Antonio Guerrero, Fernando González, Ramón Labañino and René González in jail in 1998.
The Association called for the release of Gerardo, Ramón and Antonio, who are still unjustly serving in the United States, as Fernando and René returned to Cuba after fully serving their sentences.
Football fans from Brazil and other countries such as Honduras, Canada, Nigeria, South Korea, Australia, United States, France and Holland received information about manipulations and irregularities in the processes to condemn the Cuban Five, as they are known worldwide.
The Association also asked the support of everyone to send letters for U.S. President Barack Obama to use his constitutional prerogatives to free Gerardo, Ramón and Antonio, who were condemned for defending their country from terrorist actions prepared from Miami, Florida.
Similar actions were held in Rio de Janeiro, where the city's Committee to Free the Cuban Five placed posters on the sidewalk of Copacabana condemning their severe sentences and asking their return home. (Prensa Latina).