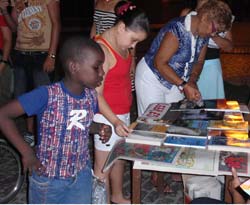 Camagüey, Cuba, Aug 29. – The wide array of activities that the Provincial Book and Literature Center held during the current summer season comes to an end in Camagüey province with a tribute to the Cuban territorial publishing houses, which have been working successfully over the last 14 years.
Poet Alejandro González said that the celebration is scheduled to begin at 10:00 a.m. in the well-known Ateneo–Vietnam Book Store, located in the historical center of this city, designated a World Heritage site. Children's literature will be the highlight of the gathering.
The books chosen for the reading will be "Historia de monos" by Niurki Pérez and "Un cuento grande y otro chiquito" by Sergio Morales Vera.
In the evening, the Provincial Visual Arts Council –located in Camagey's pedestrian shopping street Republica- will hold another get-together, titles such as "Leyendas y tradiciones del Camagüey" by Roberto Méndez, and "Ciudad cotidiana" by Martha Hurtado will be presented to readers.
Others texts such as "Pistos manchegos" by Nicolás Guillén and "Romance de Pueblo Viejo" by Manuel Villabella will be touted, in addition Desandann (also known as the Creole Choir of Cuba) is scheduled to appear on stage, González said.
Likewise, he told this reporter that those who come to this celebration will be able to enjoy various cultural and entertainment options such as dance and musical offerings, traditional children's games and art exhibitions. The community-based project Llegando a mis barrios, comprised of members of the Jose Marti Art Instructors Brigade will conduct the cultural activity.
Alejandro González underlined that the local publishing house Ácana – which was established 24 years ago- has allowed that the work of Camagüey-resident writers can reach various target audiences across the island country.
By Bárbara Suárez Ávalos, Radio Progreso