"Seven months ago, when they realized they couldn't stop us holding elections, they drew up plans to kill me," the president said.
March 15 (TeleSUR) The constitutional president of Venezuela, Nicolas Maduro, denounced on Friday that the cyberattack against the Venezuelan electric system, which caused a five-day national blackout, was directed from Houston and Chicago, cities in the United States.
RELATED:
US Regime Change Blueprint Proposed Venezuelan Electricity Blackouts as 'Watershed Event' for 'Galvanizing Public Unrest'
All services were taken away from the Venezuelan "people, in an attack commanded directly by the United States and by John Bolton," who is the National Security Advisor for the White House, President Nicolas Maduro said during a televised national address in Caracas, held yb the Armed Forces and Venezuelan governors.
"Here I have the evidence of the investigation, how they did it, who did it, and how they continued it," said President Maduro, referencing the cyberattack perpetrated against the "Ardas" automated system for the Simon Bolivar Hydroelectric Plant. Located near the Guri Dam, the water plant was one of dozens of federal institutions left without power from March 7 to March 11.
The electric service was restored on March 12 and stabilized in its entirety within the following days, including access to running water and the Metro underground transportation system. During the blackout, the democratically elected Venezuelan government guaranteed the continuous service of hospitals through power plants. As well as deployed security forces on the streets to protect citizens.
During the meeting, Maduro congratulated the Bolivarian National Armed Forces (FANB) for the their "revolutionary consciousness, morale, and discipline" in the face of the U.S. electrical attack. The president also stated that the attacks could continue, however, Venezuela will be ready. "They're still attacking our electrical systems, but now we have defense systems in place to stop them."Ver imagen en Twitter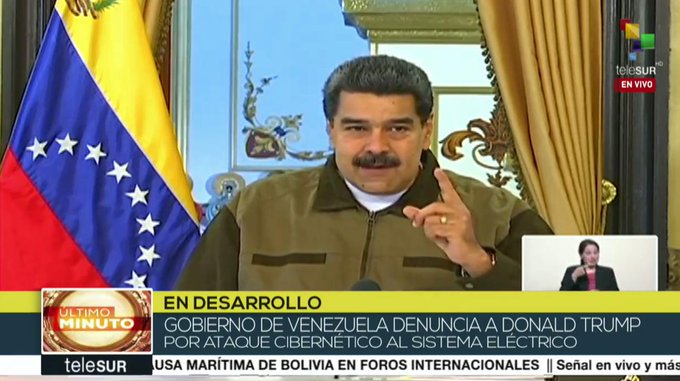 teleSUR English@telesurenglish
#LIVE | President @NicolasMaduro: "Progressive governments must deepen the revolution every day, must make revolutionary changes every single day"2114:24 – 15 mar. 201915 personas están hablando de estoInformación y privacidad de Twitter Ads
The Venezuelan president also mentioned the failed assassination attempt against himself, which, according to photos released by CNN Thursday, was hatched on a Colombian farm.
"Seven months ago, when they realized they couldn't stop us holding elections, they drew up plans to kill me," Maduro said, sharing a video clip of a Colombian CNN correspondent in Bogota interviewing the perpetrator of the attacks.
President Maduro also slammed the right-wing opposition in Venezuela, denouncing their 'support' for different actions allegedly against the democratically elected Bolivarian government, as an attack against all Venezuelan people.

"The strategy of the pro-imperialist right wing was to accompany the electrical attack with internal violence. We defeated them," said President Maduro, before applauding the people saying that "there is no country anywhere on earth that could withstand such an attack on its electrical system as we did."
Tags