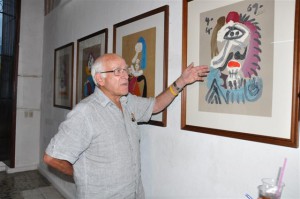 Paintings by Pablo Picasso, Marcel Duchamp, Joan Miró, Roy Linchtenstein, Richard Lindner, and Andy Warhol are grouped together in the exhibition Mi amor al arte, mi amor a Cuba (My love for art, my love for Cuba), of the Swiss American art collector Gilbert Brownstone.
The exposition, being currently shown at Sancti Spiritus's Oscar Fernandez Morera Art Gallery, is dedicated to the Cuban Five antiterrorist fighters.
"When I first visited this country in 2001, I found a special place here. Cuba is an example of what can be done for the sake of culture, and social justice", Brownstone told local press.
The 21 pieces on exhibit are part of a larger collection donated to the Cuban people, with creations by 35 artists from the artistic avant-garde of the XIX and XX centuries.
The itinerant exhibit, which has already toured several provinces, was donated to Cuba by Brownstone in 2010. According to Rubén del Valle Lantarón, president of the National Council of Plastic Arts, new art pieces might be added to the collection.
Del Valle considered this collection a history of love to art, to Cuba, and to humankind, when referring to the significance of the act of generosity carried out by Brownstone, also president of the France-based foundation with the same name.
Created back in 1999, the foundation is aimed at supporting, accompanying, and fostering social solidarity actions towards culture and the education of the people.
Mi amor al arte, mi amor a Cuba exhibition, is sponsored by the National Council of Plastic Arts, the National Museum of Fine Arts, and the Wifredo Lam Contemporary Art Center.