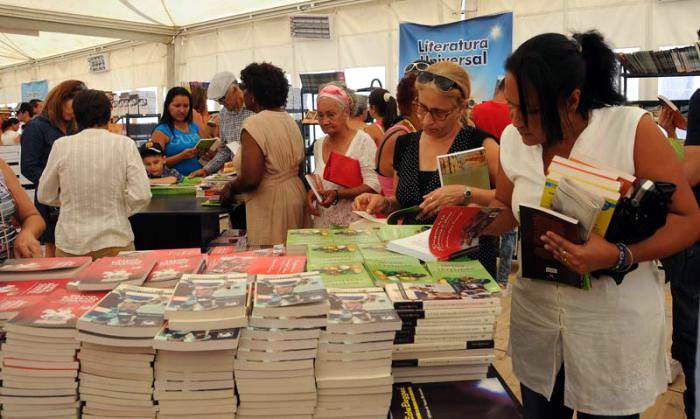 Jan 21 (Radio Rebelde) Juan Rodríguez Cabrera highlighted the presence of the new titles, new reduced prices of the texts, the offer of special projects as tiny books, calendars, maps and didactic materials, included the demanded technical books about medicine and art issues and a higher presence of the digital literature, are among other attractive proposals.

Edel Morales, who is the director of the literary program of the book fair, announced that the event will include the official delivery of the morat important recognitions granted in the literature field in the archipelago again. They include the National awards of literature, Design, Edition and Social Sciences.

In addition and ratifying the exchange among the national and foreign writers with the Cuban audience of the aforementioned fair, Edel Morales announced the carrying out of colloquiums and theoretician meetings about the children´s literature, poetry, history, nature and social sciences, as well as the presentations of books.
According to the also writer and researcher, there will be some special occasions of its program dedicated to Eduardo Heras León, the National Literature and Edition Prizewinner to whom a homage will be paid as part of the current 28th Fair´s awarding process. It will include a colloquium about his work and the presentation of some of his books, among them.

There will also be some meetings about the festivities for the 60th anniversaries of the triumph of the Cuban Revolution and the 500 years of the foundation of Havana. Moreover, there will be significant activities carried out in order to promote the literature of the Democratic and Popular Algerian republic that is the invited nation on this occasion.

On the other hand, it was also informed the presentation of a new special design in the areas of the local San Carlos de la Cabaña fortress as the main venue of that event for the Cuban and foreign exhibitors, as well as the recovery of the Pabellón Tesoro de Papel (Paper Treasure Pavilion) at its place of origin.

The XXVIII International book fair will officially start at six pam at the Cabaña fortress on February 7th through the 17 th at five pm to continue to be carried out nationwide until its last date on April 14th in Santiago de Cuba province.

Radio Rebelde News Desk