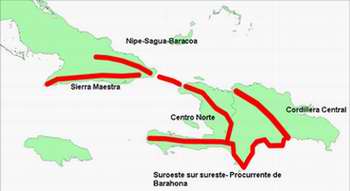 Santiago de Cuba, Sep 9.- An online mapping system is being developed today by specialists, of the Caribbean Biological Corridor (CBC), intended to be a tool to enable greater knowledge of the geographical distribution of biological species in the area as well as in Latin America.
Ricardo Delgado, a specialist at the office for Integrated Mountain Development in Cuba, and an interactive media designer, said that the CBC is a landmark project, reflecting the results achieved in its mapping.
He said the project is in the first phase, and will move to another that is larger and more complex, with the inclusion of elements such as species counts and biodiversity analysis in a variety of areas, with contributions to be made by nations in the area as part of a information exchange platform.
The system shows the area of the corridor, the core areas and the connectivity areas, the values of biodiversity and threats, organized by territory, reports on the activities in this initiative, and information about the pilot projects.
Since July 2007 Cuban authorities and scientists have been working on the CBC along with experts from Haiti and Dominican Republic, the latter countries being members of the geographic segment known as The Hispaniola, under the auspices of the Ministries of Environment.
With the cooperation of the United Nations Program for the Environment and the European Union, the strategy is based on an approach to nature that transcends national boundaries, joining efforts towards a dynamic environment that does not distinguish on the basis of artificial barriers. (Prensa Latina)