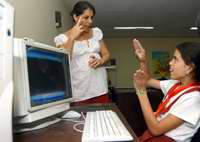 Camagüey, Oct 17.- The fitting of an audiometer in the city of Camagüey provides an indispensable tool for teachers and children with impaired hearing who attend special education centres in this Cuban province.
After years of arduous search and paperwork, delayed by the obstacles that the US blockade imposes to the island nation, this device installed at the School for the Deaf allows measuring levels of audition on pupils, and constitutes a key tool to offer an individualized treatment and pedagogic attention to children.
During her recent visit to Camagüey province, Deputy Minister of Education Irene Rivera Ferreira said that in spite of limitations to get this technology, Cuba resorts to more costly markets in a bid to improve the education of students with special needs.
When asked if the country is today carrying out negotiations to buy other devices or means for the Special Education, Rivera Ferreira answered that "a sterling effort has been made to buy bibliographical texts for mentally challenged children, and it is looking forward to purchasing devices to conduct diagnostic testing."
"We develop a formative strategy in the Special Education, but not always we are in position to update our technology, either by the increase in the cost of these devices or by the Washington's not allowing our suppliers to trade with Cuba.
"Nowadays there are many modern forms and technologies to teach these children, but devices are made by transnational corporations and the US Government puts these companies obstacles to sell these means to us, so buying them is complicated." the Cuban Deputy Minister of Education noted.
"Against this lies the indisputable value of the Cuban Education, the capacity of our professionals who pay particular attention to both the students and their families."
On the work that Camagüey has been doing in training children with special needs, the Cuban official said that "it is an example of the development the country enjoys in this sector."
Education is one of the most significant achievements in Cuba's Revolutionary process, and basically when talking about children with physical and intellectual disabilities.
However, the technological development of this type of education is often hampered by the US economic and financial blockade on Cuba. (Darycel Martínez Esteban/ Radio Cadena Agramonte).