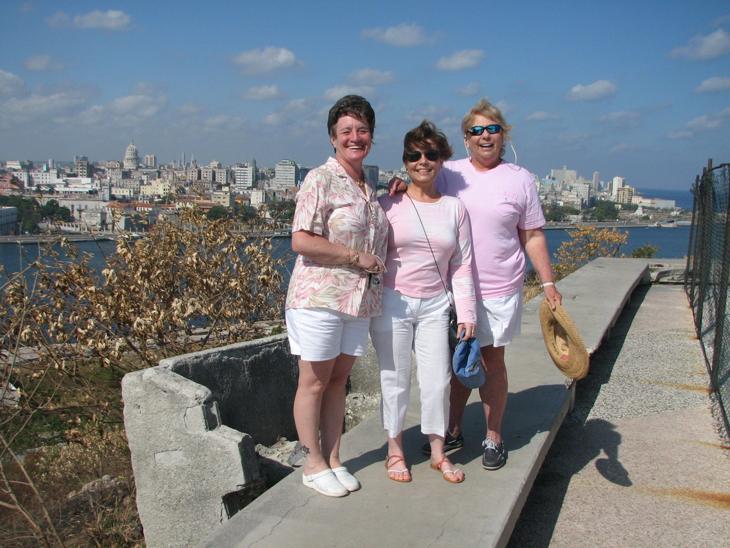 Gretchen Coyle and Deborah Whitcraft are part of a small American minority — people who have visited Cuba legally.
In 2011, the two longtime Long Beach Island residents went to the Caribbean nation, which has been under a travel ban for most U.S. citizens for more than 50 years, to do research for a book they co-wrote, "Inferno at Sea: Stories of Death and Survival Aboard the Morro Castle."
The Morro Castle was a cruise ship that caught fire off the New Jersey coast in 1934 on its way from Havana to New York. The death toll hit 137 people under murky, mysterious circumstances, and the authors went to Cuba to learn what they could about the people involved, and what happened before the trip started that may have somehow figured into that tragic ending.
This week, Coyle and Whitcraft are heading back to Cuba — because "Inferno at Sea" is being honored by the Havana International Book Fair when that annual literary event starts Friday.
The authors are again traveling under a special license from Cuba International Travel, as part of a "people-to-people delegation," one legal route around the travel restrictions. But as they go, Coyle and Whitcraft also know that the relationship between the two countries has had a major thaw since their last time there.
President Barack Obama said in December that he wants to normalize America's diplomatic relations with Cuba. And last month, the government announced rules changes on travel that have some U.S. airline companies actually looking at opening routes between American hubs and Havana.
Although these two local women still are working under the old restrictions on private travel, they also know these changes are hitting just as they're going back to a country where they made lasting friendships.
"I think were going to find that the people of Cuba are most excited," said Coyle, who splits her year between LBI and Florida. "In most cases, they've known nothing else but the (American) embargo. The embargo is still in place, but America diplomats are in Havana, and things are hapening. … It may not happen right away, but I think you're going to see a big change. It's just tragic that (Cuba) has been closed to most people (here) for 50 years."
Whitcraft is a former mayor of Beach Haven and dive-boat owner who founded and runs the New Jersey Maritime Museum, in that town. The museum features history that Whitcraft has collected over a lifetime — including an extensive display on the mysteries of the Morro Castle.
She is also well aware of the changes since her last research visit to Cuba. But she's less optimistic than her friend and co-author about the effects of these American policy moves.
"I think the last people who will see any benefits will be the everyday, average Cuban person," Whitcraft said Sunday. "It will be exciting to go back three years later just to see the outlook of the Cuban people. But we're going to find out that when the dust settles, I don't think the people are going to see much change in their standard of living, and that's sad."
Both writers have friends they care about there. They met Roberto Giraudy through a writer Coyle knows in Florida, and Giraudy became their unofficial translator during their research trip — and will officially translate again for the two at the book fair in Havana when the authors are scheduled to give two public talks on their topic. Through him, they became friends with his wife, Ele, too.
The authors also met and got to be friendly with Cuba's official historian, Ciro Bianchi Ros, as they did their research. One thing Whitcraft is interested in seeing is whether they can get access to materials about the Morro Castle that they couldn't last time — including documents at Cuba's national archive.
Despite her skepticism about real change, Whitcraft is definite on one point:
"The Cuban people were really good to us," she said.
Coyle agrees completely.
"It's a beautiful country and the people were so warm and friendly. We made friends we continue to communicate with by email and Facebook," she said. "The Internet is not all over the country by any means, but some people have access to it."
And she can't wait to see what — if anything — is new since her last trip.
"I think it's just a very exciting time to be going to Cuba," Coyle said.
By Martin DeAngelis, Staff Writer, Press of Atlantic City
February 8, 2015
Contact Martin DeAngelis:
609-272-7237
MDeangelis@pressofac.com
© 2015 pressofAtlanticCity.com. All rights reserved. This material may not be published, broadcast, rewritten or redistributed.