Venezuelan President Nicolas Maduro's presidency has been ratified by the Constituent Assembly and gave a speech including Plan for the Homeland for his new term.
Jan 14 (teleSUR) President re-elect Nicolas Maduro addressed the National Constituent Assembly (ANC) Monday as the body officially ratified his presidency (2019-2025). He used the opportunity to present parts of his six-year Plan of the Homeland for his new term.
RELATED:
Venezuela Rejects US Attempted Coup and 'Puppet Government'
"Inequality has been reduced in 2018 despite the brutal imperialist economic attacks," Maduro said during his speech to the assembly. He also said: "As I soon as I was made aware of the arrest of opposition leader Juan Guaido, I ordered his release and the dismissal of those responsible." Guaido, a lawmaker in the Venezuelan National Assembly was temporarily detained Jan.13 by rogue officers of the Bolivarian National Intelligence Service (Sebin) but was later released as soon as the president became aware of it. View image on Twitter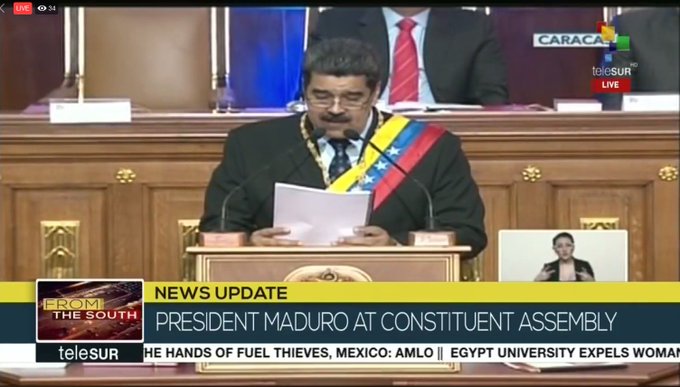 teleSUR English@telesurenglish
President @NicolasMaduro: "Under neoliberalism, less than 20% of the the elderly recieved state pensions, now almost 100% do"

watch live: http://bit.ly/2D9JTLi 229:40 AM – Jan 14, 2019See teleSUR English's other TweetsTwitter Ads info and privacy
The president commented that his government has "managed to maintain formal employment levels with more than one million young people getting jobs thanks to our youth employment program 'chamba juvenil'." He added that inequality was reduced last year "despite the brutal imperialist economic attacks" by the United States and its allies.
The U.S. government has enacted several rounds of illicit sanctions on Maduro, his wife, and his closest advisors in order to economically strangle the socialist country.
Despite that, investment in social welfare has increased 34 times in the last 20 years in areas such as health, education, technology, and others between 2013 and 2018. Maduro said that 60 percent of formal employment has been maintained while maintaining workers' rights.
"We have continued with labor stability as a formula for the protection of the working class, of the Venezuelan working class," he said.
RELATED:
Venezuela: Lawmaker Juan Guaido Released, Rogue Officers Fired
"In the field of health system we have achieved the expansion of public health networks and shows 127 million 168 thousand medical consultations that occurred in Barrio Adentro during 2018," said the head of state.
The plenipotentiary body issued a decree to ratify, reaffirm and recognize Nicolas Maduro as head of state, government and commander in chief of the Bolivarian National Armed Forces (FANB).
Government supporters were outside the assembly in Caracas.
"Here we are to tell the world that in #Venezuela there is #democracy that we chose the #20MAY to @NicolasMaduro and they must respect us" tweeted supporters.
President Nicolas Maduro was sworn in Thursday, Jan. 10 for his new term before the Supreme Court of Justice (TSJ) after being re-elected in May 2018 with 67 percent of the vote.
Tags