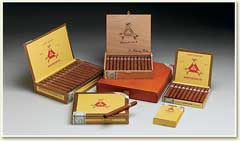 Havana, Cuba, Jan 5.- The International Habano Cigar Festival will be held February 23 to 27 at Havana´s Conventions Palace with the usual attendance of business people, cigar distributors, specialists who will dedicate the event to the Cuban traditionally famous brand Romeo y Julieta.
Participants will taste exclusive shapes to be launched into the market this year and they will also visit tobacco leaf plantations in the renowned Cuban province of Pinar del Rio, cradle of the best tobacco leaves to hand-roll Cuban cigars.
Habano Cigar company vice-president Javier Terres said that the new brands launched into the international market will favor sale increase and the consolidation of the international prestige of Cuban cigars.
Despite the international financial crisis and the anti-smoking campaign, Cuban cigars continue to enjoy the preference of smokers at the markets.
Habanos Company markets the Cuban product in over 150 countries, including famous brands such as Cohiba, Romeo y Julieta, Montecristo, Partagas, San Cristobal de La Habana, and Trinidad and Bolivar, among others. (acn).