Posted: Monday, February 10, 2014 2:41 pm |
Updated: 2:47 pm, Mon Feb 10, 2014.
By Anne-Marie Garcia
AP Writer | 0 comments
HAVANA — Two of Major League Baseball's biggest names are in Havana as part of a sports diplomacy program that aims to foster personal ties between citizens of the U.S. and Cuba, two nations that have long seen eye-to-eye on little other their shared love for the sport.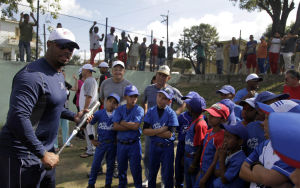 Hall of Famer Barry Larkin and Ken Griffey Jr., who is a good bet to be enshrined after he becomes eligible, are holding sports clinics for little-leaguers, talking baseball with Cuban fans and taking in a game featuring the powerhouse ball club Industriales.
"The passion for baseball is unbelievable here, and for a baseball guy that's what we want to see," Griffey told The Associated Press.
"You see the (Cubans) that come over (to MLB) and how passionate they are about playing the game, but it starts out with 8- and 9-year-olds," he added. "So I wanted to personally see what it was like. And so far it's been unbelievable for us."
He spoke Sunday at a clinic the players put on for Cuban youth, dressed in a blue shirt and a white cap emblazoned with the American and Cuban flags.
"What are we thinking before the game?" Larkin asked the kids in Spanish, which he learned in the Dominican Republic. "Winning!" they cried in unison.
"Everybody wants to be associated with something positive, and when you're dealing with baseball, you're dealing with kids," Larkin said. "It's all about passing on the legacy, passing on the tradition and helping those kids become better. I feel like it's our responsibility."
Olympic softball champion Natasha Watley and Joe Logan, a former pitcher in the Montreal Expos organization, were also on the trip.
The visit was organized by the Boston-based Educational Travel Alliance, which for years has promoted sporting and cultural exchanges between Cuba and the U.S.
Washington's 52-year-old embargo bars most U.S. travel to Cuba without a license from the U.S. government, although the number of Americans visiting legally on cultural, academic, athletic and so-called people-to-people exchanges has increased significantly since 2011.
In January, the University of Tampa baseball team came to Cuba for exhibition games against local squads. And in recent months, after a Cuban migratory reform took effect, Cuban-born Major League players such as Jose Ariel Contreras also visited.
This week's itinerary includes a dinner with local sports luminaries and a tour of a sports academy. The visitors also played an afternoon softball game with local senior players and a couple of diplomats from the U.S. Interests Section, which Washington maintains as its mission in Havana because the countries do not have formal diplomatic relations.
Over the weekend Griffey and Larkin caused a commotion with an unannounced appearance at a central Havana square where fans gather to argue passionately all day, every day, about baseball.
Irving Negrin, 36, couldn't believe his eyes when he suddenly saw his idol, whom he referred to as "No. 24," strolling toward the bench.
"I said, 'Wow, that looks just like Ken Griffey Jr.,'" Negrin said.
Fans crowded around and took turns having their picture taken with the players. Negrin and a friend scrambled to borrow a pen and paper to get Griffey's autograph.
"I'm going to treasure this," Negrin said. "I still have goose bumps."
It was a scene reminiscent of last spring's visit by pop power-couple Beyonce and Jay-Z. That trip that was harshly criticized by some in the Cuban-American exile community including several prominent politicians.
Cubans are keenly interested in U.S. baseball, in addition to their own league. Keeping abreast isn't always easy, but islanders eagerly pass around videos on thumb drives, and information travels by word of mouth.
Last year Cuban state television began showing MLB games for the first time in decades, though always on tape delay and not games featuring Cuban defectors.
Larkin said he believes sporting exchanges can help bridge the gap between people separated by more than five decades of political ill will.
"The whole world has become smaller and more connected through relationships," Larkin said. "And I really truly believe that sports is one of those bridges than can build really strong bonds."