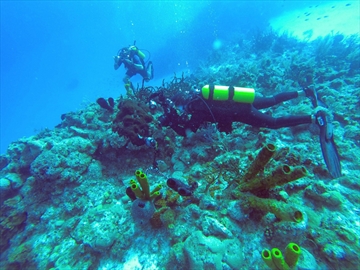 MARIA LA GORDA, Cuba — The coral reefs and gin-clear waters off the coast of Cuba offer some of the best diving in the Caribbean and some of the best-preserved reefs on earth.
And if travel restrictions on U.S. tourism to Cuba are ever lifted, the remote Peninsula of Guanahacabibes could well become a popular destination for American divers.
The land and marine reserve encompasses some 518 square kilometres on Cuba's westernmost tip about 217 kilometres northwest of Havana. It juts into the Caribbean, with protected forests on land, aquamarine waters lapping at white sand beaches and pristine coral beds teeming with a colourful variety of fish just offshore.
In some ways, the peninsula is just as frozen in time as other aspects of life in Cuba, where 50-year-old cars are common and Wi-Fi is scarce.
But the lack of change here has had a positive effect, sparing Cuba's reefs from the degradation evident in coral beds elsewhere. Lack of agricultural run-off, little coastal development and strong environmental laws have all helped keep Cuba's reefs healthy.
That said, several factors stand in the way of Guanahacabibes becoming a major tourist attraction any time soon.
For one thing, while U.S. President Barack Obama has relaxed limits on travel to Cuba, trips from the U.S. to Cuba for pure tourism remain prohibited by U.S. law. The Obama administration has said that it believes more U.S. visits to Cuba will accelerate reform on the island. But Obama's critics say that U.S. visits simply feed cash into coffers of government agencies like the military-run tour company that oversees diving in Maria La Gorda, the resort inside the Guanahacabibes reserve.
Despite the travel ban, however, thousands of Americans are visiting Cuba, some flying in via third countries like Mexico or the Bahamas, others certifying that their trips meet standards for permitted categories such as educational or cultural travel.
Another impediment to tourism here is Guanahacabibes' location. It's a five-hour drive from Havana over tortuous roads to get to Maria La Gorda.
Finally, even though international travellers and monied Cubans enjoy the area, eagerly taking in the sights underwater, it doesn't offer the type of comforts Americans are accustomed to.
"No, there is no way they are going to be ready for them," said American diver Tony Dorland, 51, a contractor from Chicago who has visited the island numerous times to dive. Dorland said Americans "like all the bells and whistles when they travel, but it's going to be for the people that know that this is the way Europeans travel, not the way Americans travel."
The dive resort has the feel of a summer camp: spare hotel rooms (though they do have air conditioning) and a buffet that serves unimaginative fare of rice, beans and either chicken, beef or the ubiquitous pork Cuba is famous for. And since it's located at the edge of a protected reserve, there are no other visitor options for miles around.
Despite the lack of luxury, the attractions of the sea satisfy even the most demanding divers: clear water, spectacular coral heads towering 18 metres and an abundance of marine life.
Manuel Mons, 55, a marketing manager for a Cuban state-run tour agency, says Cuba is uniquely suited to ecotourism because of its lack of development and strong environmental laws.
"You're diving in a protected area, so there aren't areas that are under pressure from man-made activity," said Mons. "On the contrary, the policy is of conservation, so it's assumed under this conservation policy they should be that way for a long time."
But he acknowledged that if the area wants to attract and please American tourists in the future, "we need to improve our infrastructure."
The Associated Press
By Chris Gillette Waterloo Region Record, The Record
July 25, 2015