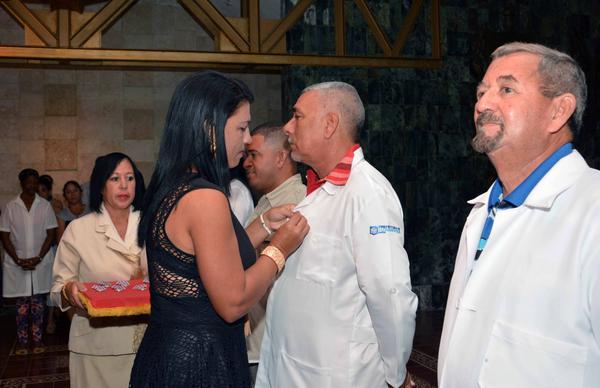 Camagüey, Cuba, May 24 (Radio Cadena Agramonte) – "To have gone to an internationalist mission in any country of the world, is for a Cuban doctor the opportunity to corroborate that the humanitarian principles under which undergirds our public health system are native to this revolution."
So said to the ACN Maryuli Hernández Ramírez, doctor who is among the near 60 collaborators who were awarded this Wednesday with The Medal of Internationalist Worker, in the city of Camagüey.
The above distinction,  given by the Council of State, was awarded to doctors, nurses, dentists and technologists who stand out for their dedication and commitment in the formation of new professionals of the sector, as well as in the provision of health care services outside the country.
Maida Díaz Pérez, head of the department of Medical Co-operation in the territory, said during the ceremony that currently two thousand 695 the collaborators of the province that provide care in 41 nations of the world.
The award, which recognizes the work of the Camagüey´s physicians in different latitudes, is delivered in this day, 55 years after the Cuban international medical collaboration, which had as its first stage the Democratic and Popular Republic of Algeria. (ACN) (Photos: Rodolfo Blanco Cue)