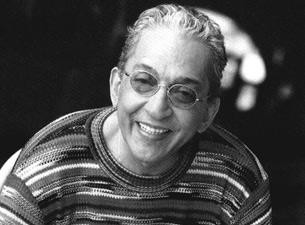 How many musicians can boast a 40 year global music career? Cuba's Juan Formell and Los Van Van are up there among the rare few, on a never ending Magical Mystery Train Journey which has them touring constantly around the world, bursting out a unique style of funky dance rhythms that has cross- generational audiences hooked. If the Cuban band is like The Rolling Stones with flavour, Juan Formell is its Mick Jagger, without the weird stage prancing.
At the age of 70 you might think that Juan Formell should be sedately swinging seated audiences, Buena Vista style. No such thing, come Saturday night his band will be electrifying the Kentish Town Forum, and you can guarantee not one member of that audience will be seated after the first three seconds. You'll have 20-year-olds, newly bitten by the Cuban music bug, gyrating frenetically alongside loyal fans who wouldn't miss a concert by Los Van Van if their life depended on it.
One hardly has to ask what keeps the old man going. Juan Formell giggles like a child and suggests more modestly, "it still gives me great pleasure to share my music with all the Latinos who are far from home: Cubans, Colombians, Dominican Republicans… thanks to our audience we can tour year after year and people still love our music and love to dance. It's fantastic to be able to share Cuban music with the world and represent Cuba on the stage."
Indeed, the most astonishing thing is that, despite the general demise in popularity of Salsa, compared to other Latin genres such as Bachata and Urban, Los Van Van manage to pack out concert halls wherever they go, with its unique 'Songo' style and 'Big Band' sensory experience.
What is your approach to your own music, in the context of all the new trends that come and go around you?
"I don't know much about Reggaetón. I mean there are some acts I like and I think are really good, others I find quite vulgar and don't like the lyrics, which are explicitly sexual. But Los Van Van created it own sound a long time ago La Timba Cubana and for the past 40 years we have had our own sound and a great following. We make music to dance. I now I have a big repertoire of songs. At the moment we are re-editing and updating some of our songs from the 1980s, but we also produce new material all the time. It's like an institution where we've set the standards high, and we have to keep exceeding those standards."
Some might say that the band is like a one track train, on its own journey uninfluenced by other trends; in fact it's Los Van Van's influence you can hear in new Tropical music.
"You could say that in the last two to thee years Reggaetón has more Timba and piano influences," Formell admits. "So it's good to see that our traditional style influences new talents."
Maintaining a strong identity, however, has not meant rejecting outside influences. One of their most successful hits 'Tim Pop Con Birdland' was a cover of Weather Report's classic tune. Van Van covers have been selective and surprising, the interpretations showing the quality of musicianship and confirming rather than undermining their strong identity. And this is the key to its longevity.
"I think we have continued to write very successful numbers," says Juan Formell. "I now have more help from my son too, who first took on the rythmn section and is now the band's musical director. So it is great for me as a father to have his support. I think writing new songs and supporting all the new talent within the group, including collaborations with other artists, keep me sane and keep our audience satisfied."
From the outset, US Rock and Jazz influenced the group; in the days when Cuba was most protected from US influences, Los Van Van's riffs and electronic sounds were alien to most Cubans at the time. The uniqueness of Los Van Van was its fusion of the traditional – featuring two violins and two flutes just as in traditional Cuban charanga bands – with the high energy injection of electric piano, organ, electric guitars and synthesizers. One could even say, the original sound was subversive, identifying with Cuba's youth (it was originally called La Habana joven) who looked towards the American dream and the freedom of expression that it offered. At the same time it was proudly and uniquely Cuban.
Juan Formell was born in Havana, Cuba in 1942. After first studying with his music teacher father and going on to have classes from the renowned Cuban bass players Orestes Urfe and Israel "Cachao" López, Formell formed Los Van Van with a piano player called Cesar "Pupy" Pedroso,
Formell initially termed the group's new high energy style 'Changui 68' style, which preceded the birth of the group's ultimately defining 'songo' style – a mix of Afro-Cuban rhythms with a 2-3 beat and heavy timbales. For many Cubans, Songo became the sound of the 1970s and also served as the title of Los Van Van's breakthrough album in 1988.
You described Songo as a 'synthesis of personality'; do you think it is important to understand what Songo is?
"People always ask me what Songo is! For me songo is the sound of Los Van Van, our unique special sound of strings, flutes and timba. Other musicians in more recent years have tried to capture our songo in their work."
As the train hurtled on into the 1970's the band recorded their landmark track Tránsito in 1974, acquiring their new lead vocalist Pedro Calvo, who sang for the following two decades. After a long time with the same single vocalist, Los Van Van recently acquired several Mayito Rivera, Roberto "Roberton" Hernandez, Lele Rosales, and Yeni Valdes – the band's first female lead vocalist.
Could the addition of new vocalists change the group's dynamic? Yes, says Formell but in a good way…
"The singer has the responsibility of sharing our message with the audience. Obviously Calvo left a few years ago now. It is the singer's job to spread the message, to sing our songs. For me, the singer has to write his or her own material too, and enjoy interacting with our public. Yeni is unique, her voice has a beautiful range. She is a musician who adds so much to the whole orchestra. She is brilliant on the stage. The dynamics change but this is a good influence and keeps Los Van Van going!"
One starts to get a picture of the Yin and Yang, the balance and juxtaposition that is at Los Van Van's core; the importance of identity doesn't contradict embracing outside influences but strengthens the criteria with which it transforms and interacts with other music, shown recently in a cover of Gilberto Gil's 'Soy Loco por tí, América' with Carlinhos Brown.
"Music is a process of sharing and exchange. For me as a composer when I write I look at different things, how people walk, how they talk in Cuba. A sentence or a story. I also like to see how I can make people dance. We come from a musical region – the Caribbean, with its Merengue, Vallenato, Son, all the way up to the blues in New Orleans. We use the whole region in our work, especially fusing all these colourful elements together."
Some might think the name 'They go, they go' or more simply 'the go-gos', a little strange. But when one thinks of Los Van Van's trajectory, no other title seems more fitting: Los Van Van has turned out to be, literally, a train that keeps going and never stops. Formell comments:
"A name is a name, we could have been called something different! I chose it as we go and go on, continuing to create new ideas." Says Formell." It's not all to do with the zafra (harvest in Cuba) or sugar from after the Revolution as people think. We go. Music continues to happen."
Of course, there is always mortality. No train can get around that station. And nature has now convinced Juan, who received this year's Latin Grammy prestigious lifetime award Premio Excelencia Musical, to pass most responsibilities onto his son Samuel Formell.
"Today we're following in Juan Formell's footsteps in various ways," Samuel explains. "Today there are new musicians, young contemporary musicians, the music is richer, there's a higher level of musicianship – that's all fine. But Juan Formell's ideas live on, and his concept will always live on."
Charlotte Mackenzie, Latino Life