Besides renewing commitments to their country, Cuban workers expressed their solidarity with the Venezuelan people.
April 21 (teleSUR) Over 1,200 Cubans are participating in the 21st Congress of the Cuban Workers Confederation (CTC) beginning in Havana Saturday, along with another 30 organizations from across Latin America, Europe, Asia and Africa.
RELATED:
One Year of Diaz-Canel's Presidency Amidst US Aggression
During his speech at the meeting, CTC Secretary General Ulises Guilarte informed the audience that the confederation has been working on issues related to employment and salary policies, payment systems, collective negotiation agreements and job training.
After highlighting the workers' contribution to the Cuban development, Guilarte rejected the U.S. actions aimed at intensifying the blockade imposed on his nation almost 60 years ago. He summoned the working class to a greater involvement in the country's battle for its economic sustainability.
United States President Donald Trump said Wednesday that the nation will allow the complete application of Title III of the 1996 controversial Helms-Burton Act to enable Cuban-Americans to sue companies that work with that use land allegedly confiscated by Cuban officials in the post-revolution era.
Mexico, China, and Russia all say they will fight Trump's latest interventionist move in Latin America and European Union and Canadian officials released a joint statement last week calling the "extraterritorial application of unilateral Cuba-related measures contrary to international law."
At their congress, Cuban workers expressed their solidarity with the Venezuelan people and its President Nicolas Maduro who has been facing the continual attacks from right-wing governments in the region in the form of attacks on the country's electrical system and crippling U.S. sanctions.View image on Twitter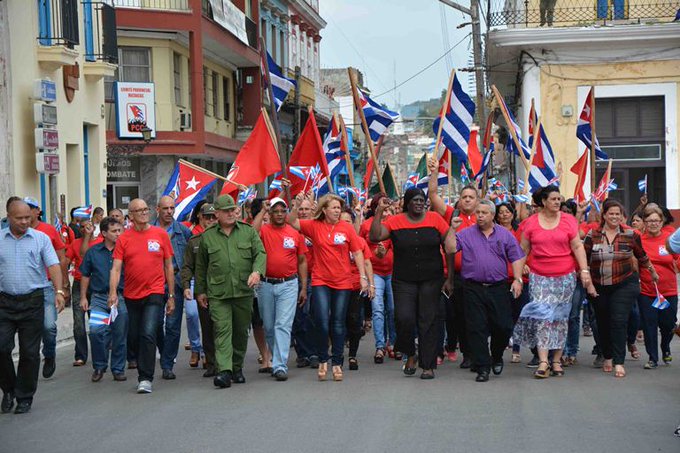 Yasel Toledo Garnach@YaselToledo10
Congreso de la Central de Trabajadores de #Cuba, que comnienza este #sabado: muy oportuno en tiempos de mucha pelea @DiazCanelB @CTC_Cuba @DrRobertoMOjeda @radiorebeldecu @ACN_Cuba @InesMChapman @AsambleaCuba @SalvadorValdesM @japortalmiranda @ValdesMenendez @SecUJCuba1610:09 AM – Apr 19, 2019See Yasel Toledo Garnach's other TweetsTwitter Ads info and privacy
"The Cuban Workers Confederation's congress, which begins this Saturday, is very timely in much-fighting moments."
Guilarte pointed out that the 'First of May' parade will be the best scenario to denounce U.S. policies against Cuba and Venezuela, what he called "criminal actions" not backed by any international law.
The workers' congress will be held until April 24 when delegates will elect a new CTC national council and secretary general.
Those gathered at the congress are celebrating the 80th anniversary of the CTC, the Caribbean's largest workers' organization. Currently, the union has over 4.5 million members.​​
The congress also remembered late President Fidel Castro's words regarding the working class and the Cuban Revolution revolution when he spoke at the 1959 congress.
"It is vitally important the working class understands the country's future is in its hands," Fidel said to the CTC congress held on Nov. 18, 1959, the year the Cuban Revolution took place. The then head of state asked at the time, "could Cuba's destiny be in better hands if its workers are its zealous defenders?"