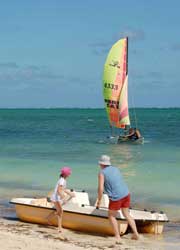 Havana, Jul 1.- Cuba received 1,478,636 international tourists during the first five months of 2014, representing an increase of 4.6 percent compared to the same period of the previous year. In May alone, 195,753 international tourists opted for Cuba as a recreational destination, surpassing the 191,213 visitors for the same period in 2013, the National Statistics Office reported.
Canada is still the island's main source of tourism, followed by the United Kingdom, Germany, France, and Argentina.
According to information from the Ministry of Tourism, 2,852,572 visitors arrived in Cuba last year, with Canada as the main tourist market (with more than one million visitors), followed by the United Kingdom, Germany, and France. (Prensa Latina).