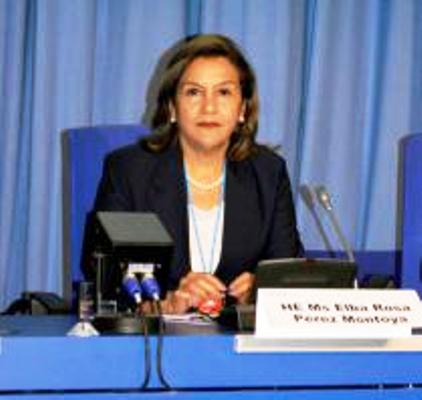 Havana, June 1st.- Elba Rosa Perez Montoya, Minister of Science, Technology and Environment (CITMA) of Cuba, continued in Vienna her interviews with executives of the International Atomic Energy Agency (IAEA).
One of them was with Aldo Malavasi, General Deputy Director of the IAEA Nuclear Applications, who received to the mandate-holder in her capacity as head of the Cuban delegation to the International Conference on Technical Cooperation of the above-mentioned institution in the capital of Vienna.
The Network of Nuclear Communicators of Cuba (REDNUC) also reported that at the meeting were evaluated projects that are promoted in the Island in the field of nuclear applications, in priority sectors such as health, industry, food security and environmental protection.
Malavasi recognized the high preparation of its professionals, reiterated his commitment to continue to increase cooperation and emphasized its incorporation to the application of the Sterile Insect Technique, used in the prevention of diseases transmitted by insects and to control pests that damage crops.
Accompanied Perez Montoya, José Fidel Santana Nuñez, Vice Minister of the Ministry; Daniel López, President of the Nuclear Energy Agency and Advanced Technologies, as well as other guests.
Shortly after, the Cuban minister had an exchange with Juan Carlos Lentijo, General Deputy Director of Nuclear Safety and Security, at the UN headquarters in Vienna.
Their discussions focused on technical cooperation and the implementation of the Nuclear Safety Standards of the IAEA in the Cuban facilities, as well as the training its staff.
Lentijo extended his thanks to the minister for the excellent organization of regional workshops and training courses in Cuba, which contribute to capacity building in the countries of the Latin American region.
Pérez Montoya opened at the roundabout at UN headquarters, one of the areas of the conference, the Cuban stand that displays the results of more than 40 years of bilateral cooperation. (ACN) (Photo: File)
Radio Cadena Agramonte, June 1, 2017