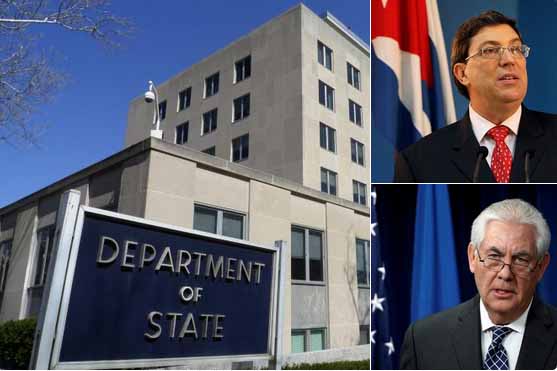 Havana, Cuba, Sep 27.- At the proposal of the Cuban side, the Minister of Foreign Affairs of the Republic of Cuba, Bruno Rodríguez Parrilla, was received by Secretary of State Rex Tillerson at the State Department.
The meeting took place in a respectful ambiance.
The Cuban Minister reiterated to Secretary of State Tillerson the condolences on behalf of the Cuban people and government for the damages caused by hurricanes Harvey and Irma in the United States and expressed his gratitude for the sympathies expressed by the State Department to our people for the damages caused by hurricane Irma to Cuba.
The main purpose of the meeting was to address the incidents reported by US diplomats accredited in Havana.
The Cuban Foreign Minister reiterated the seriousness, celerity and professionalism with which the Cuban authorities have taken on this issue. Following instructions from the top level of the Cuban government, a priority investigation was opened as from the moment these incidents were first reported and additional measures were adopted to protect the US diplomats and their relatives. This has been recognized by the representatives of the US specialized agencies who have travelled to Cuba as from June, whose visits have been considered as positive by the Cuban counterparts.
Minister Bruno reiterated to Secretary Tillerson how important it was for the US authorities to cooperate, in an effective way, with the Cuban authorities in order to clarify these incidents, which are unprecedented in Cuba.
He likewise reaffirmed Secretary Tillerson that the decision and the argument claimed by the US Government to withdraw two Cuban diplomats from Washington were unwarranted and emphasized that Cuba strictly abides by its obligations under the Vienna Convention on the protection and integrity of diplomats, an area in which it keeps an impeccable record.