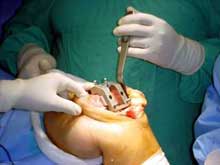 Havana, Cuba, Sept 4.- The RALCA external fixators, designed by Cuban Professor Rodrigo Alvarez Cambras in the early 1970s, are patented in 24 nations and used in some 50 with notable results.
Alvarez Cambras, president of the Cuban Society of Orthopedics, told ACN that these devices have favored over 250,000 Cubans and that they're used for various bone problems.
Likewise, the RALCA fixators have been used in victims of natural disasters, like in Pakistan, where Cuban physicians saved thousands of lives and there was no need for amputation in any patient.
They have also been used in war victims, like in Iraq and Iran, victims of traffic accidents, in cases of traumatisms and in other ailments, asserted on Wednesday the founding director of Havana's Frank Pais International Scientific Orthopedic Complex.
The prestigious expert, head of the National Group of Orthopedics, explained that the RALCA fixators are being used in almost all Latin America, as well as in the United States, Canada, France and Spain, and in Arab and African nations. (acn).