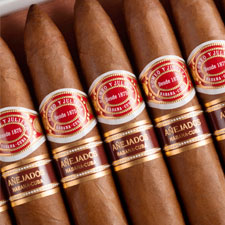 If you don't want to wait half a decade to age your own Cuban cigars, Habanos will do the aging for you. A new series of Cuban cigars with extra age is now shipping to retailers across the world. They are part of a program called Añejados (which translates to "aged"), and according to distributor Habanos S.A., these cigars are aged in Cuba for a period of five to eight years before going out to the global retail market.
The Añejados program has two unique sizes—a Montecristo Churchill (7 inches by 47 ring) and a Romeo y Julieta Pirámide (6 1/8 by 52). Though the Pirámide and Churchill are standard sizes, this Añejado release marks the first time that either brand has been rolled in these shapes for a major commercial launch.
While the Montecristo Churchill Añejados has still yet to be released, some retailers have already received the Romeo.
"We have the Romeo y Julieta Añejados in stock," said Ajay Patel, manager of a La Casa del Habano shop in London. "The Montecristo Churchills should arrive this week. It's a good idea overall, but Cuba does not have a lot of these. They'll only be around while stocks last."
At Patel's Casa del Habano, Romeo y Julieta Pirámides Añejados retail for £27.50 (about $41.70) each. Compare that price to standard size Pirámides like the Montecristo No. 2, which retails for £21.18 (around $32.00), or the H. Upmann No. 2 at £19.69 (about $30.00).
Despite the increase in cost, Patel told Cigar Insider that these smokes have found an audience. "They are selling," he said. "The guys that have smoked in the lounge enjoyed them. So a good response so far."
If the Añejados program sounds familiar, it's because Habanos S.A. started it for Cuba's domestic market back in 2011. The launch coincided with the celebration of the Casa del Habano's 15th anniversary, which took place at the Casa del Habano in Havana's Partagás factory. The cigar that kicked off the program was a Hoyo de Monterrey Hoyo de Dieux with more than 10 years of age. Now that the concept has been exported to the rest of the world, cigar enthusiasts can easily identify Añejados by the conspicuous secondary bands.
It should be noted that the aging on the Añejados line has nothing to do with the age of the tobacco leaves or the date of the harvest. Rather, the age statement refers to the time the cigar was rolled to completion.
For scores and tasting notes on Añejados, see an upcoming issue of Cigar Insider.
By Gregory Mottola, cigar aficionado
January 21, 2015