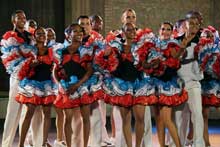 Camagüey, Cuba, Jul 23.- The Camagua folk company of this province is in Europe on its usual summer tour, where for several years now it has been participating in several dance, singing and music festivals representing Cuba.First, the troupe attended the 26th Festival de danses et musiques du Monde, in Ambert, France, along with similar companies of Germany, Croatia, Brazil, Colombia, Lithuania and South Africa. It also took part in the recently concluded International Dance, Singing and Folk Music Festival of Bray Dunes, in the northern side of France.
In this Festival, which celebrated its 25th anniversary, the Cuban company shared the stage with groups of Serbia, Turkey, Russia, Thailand, Burkina Faso, Rumania, Mexico, Argentina, Belgium and Germany.
Later the Cuban artists performed in Belgium, in the city of Koksidje, to participate in the International Folklore Festival.
Prior to this, the Cuban music-dance company also offered its art in Calais and Loon Plage, France, and will continue its European tour until August.(can)