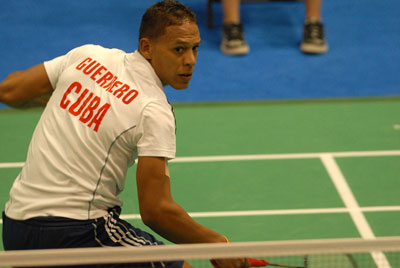 Havana, Cuba, May 5.- Cuban Osleni Guerrero officially qualified to the Olympic Games in Rio de Janeiro, the International Badminton Federation announced today.
Guerrero, 27th in the Olympic ranking, was included among the 34 players in the men's event who earned a ticket to Olympics, and incidentally will become the first Cuban badminton player to compete in the biggest sporting competition in the world.
For me as an athlete is something huge and special to be able to compete in the Olympics, a dream come true thanks to the work and sacrifice of so many years, he told ACN.
I am very proud to achieve this goal and know that I can worthily represent the Cuban badminton and my country in that competition and it will undoubtedly be a moment that I will enjoy much, he added.
Osleni, runner-up of the Guadalajara 2011 Pan American Games and with experience in World Championships on more than one occasion, is one of four players from the Americas secured to the summer event.
That list also includes Guatemalan Kevin Cordon, Brazilian Ygor Coelho de Oliveira and American Howard Shu.
In the case of the Cuban player, so far this season he has won three titles, including the last one recently conquered in the International Tournament concluded in the city of Temuco, Chile, on April 23rd.
In addition, he was crowned in the contest of Guatemala, last February, and the Giraldilla of Havana, held in late March. (acn)
Radio Cadena Agramonte, May 5, 2016