Enrique Ojito  |  Escambray  | April 25, 2014
The opening of facilities, the partial or capital repair, and the product improvement in terms of image and comfort of hotels and establishments, make up the program of actions of the Provincial Delegation of the Ministry of Tourism on the eve of the 500th anniversary of Sancti Spiritus, scheduled to be held next June 4th.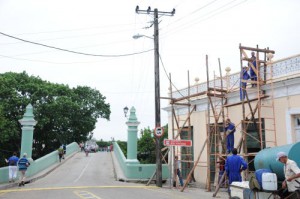 Forces of the Tourism Services Company (Emprestur, for its Spanish acronym) of Sancti Spiritus, Villa Clara, Cienfuegos, and Matanzas, drive these works, some of which are located in the historic center of the fourth Cuban village, as the hostel Don Florencio.
Initiated in March, this tourist facility is located on the boulevard and will be managed by the Encanto Chain, distinguished by personalized attention.
The hostel, under Four Stars category, will have 11 rooms, a lobby, a breakfast bar and a swimming pool, according to sources from the Provincial Delegation of the Ministry of Tourism.
For the half a millennium, the complete repair of the pool and outdoor areas of the Villa Los Laureles, La Criolla and Caracol Stores, and several units of the Palmares Extrahotel Group in the territory, are scheduled to end.
According to the source, in the context of the 500th birthday, the Boulevard Leisure Club will be inaugurated, recreation center that will have an area of ​​electronic games and a coffee bar.
In order to increase local tourism offers, the tavern Riberas del Yayabo will be opened, a few meters from the river, designed with a wine cellar and other options that will result in foreign exchange earnings, vital to oxygenate Cuban economy.