Cuban cooperation includes doctors and equipment to counteract the public health effects of the worst southern hemisphere tropical storm ever.
March 26 (teleSUR) Cuba's vice minister of Foreign Affairs Anayansi Rodriguez Camejo announced that Cuba is sending Wednestay a "field hospital", with full staff and equipment, to Mozambique, which is a form of international cooperation whose purpose is to contribute to the management of public health conditions after the devastating impact caused by Cyclone Idai.
RELATED:
Death Toll Reaches 446 in Mozambique After Cyclone Idai
This new internationalist medical brigade will join 372 Cuban doctors who are already providing their services in the African country, 36 of whom arrived on March 14, when Idai made landfall for the first time, according to the Cuban News Agency (ACN).
In Mozambique the death toll rises to 447 and the directly affected population reaches 794,035 people, 128,941 of which are currently staying in 143 shelters provided by President Filipe Nyusi administration, according to the data updated until Monday by the National Institute of Catastrophe Management (INGC).
Cyclone Idai started as a tropical storm at Mozambique's eastern coast on March 4. Days later, Idai made landfall and became one of the worst southern hemisphere tropical cyclones ever recorded as it reached four of five categories on the Saffir-Simpson scale, causeing multiple economic losses in Mozambique and Zimbabwe.View image on Twitter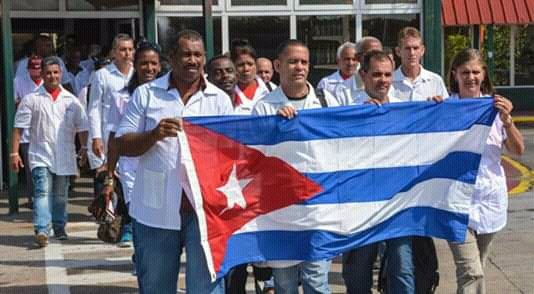 anisley fuentes crespo@anisleyfuentes1
Nuestros médicos cubanos, la obra más perfecta creada por nuestra Revolución Cubana , siempre poniendo en alto nuestros valores, con su amor de humanidad, ayudan con un gesto de solidaridad al pueblo de Mozambique. #somoscuba #SomosContinuidad #VamosPorMás @DiazCanelB217:50 PM – Mar 25, 201916 people are talking about thisTwitter Ads info and privacy
"Our Cuban doctors, the Cuban Revolution's most perfect work, always upholding our values, with their love of humanity, helping with a solidarity gesture to the Mozambican people. We are Cuba. We are Continuity. Let's go for more."
Vice Minister Rodriguez Camejo also accompanied Tuesday Gladys Bejerano Portela, who is Cuba's State Council vice president and Comptroller General, to the Mozambican embassy in Havana, where both officials signed a condolence book with the African republic.
"In the name of the Cuban state, government and people, we express our deepest condolences, sorrow and solidarity with the government and people of the sister Republic of Mozambique, in the face of the lamentable human and economic losses caused by Idai," Bejerano wrote.
In the center of Mozambique, the provinces of Manica and Sofala, where some 4.4 million people live, were the most affected by the cyclone.
In the capital Maputo, some 25 million people experienced the onslaught of Idai, whose consequences have been described by the United Nations as a "Level 3" humanitarian emergency, a category which only Syria and Yemen had achieved so far.