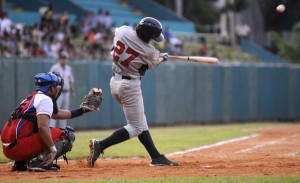 A superb performance by left-handed pitcher Julio Alfredo Martínez gave Cuba its second win in the five-game match versus the US Collegiate Team, that recently won a major tournament in Nederland.
Cuba won on Wednesday the first game 4-3, breaking a negative 5 loss streak against the US teams in friendly matches, and Martinez led them last night to a 5-0 victory, allowing just two hits in seven innings.
Closer Vladimir Gutiérrez got the save when in two innings disposed easily of the six batters he faced at the end of the game.
Cuba scored its first run in the third when Luis Yander La O hit an RBI double to the right field, batting in Roel Santos. Guillermo Avilés and Yordan Manduley also had RBI doubles later in the game, and catcher Frank Camilo Morejon had a 2 RBI single to seal the victory.
US starter James Kaprielian pitched 5 innings and a third, allowing 3 runs out of four hits, walked three batters and struck out four. His reliever Andrew More pitched three and two thirds, allowing two runs.
Today, the Cuban and American teams will play a doubleheader to recover one rained out game, and the fifth game will take place on Sunday in the same venue of Pinar del Rio.