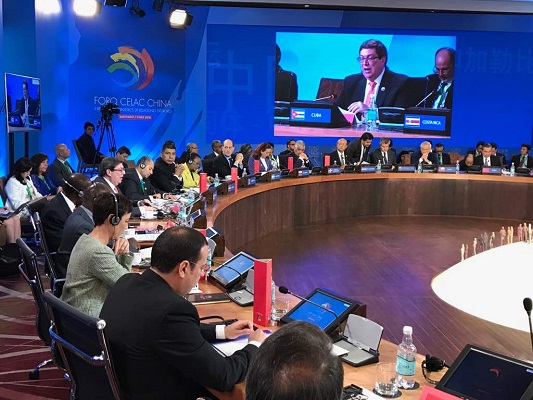 Havana, Jan 22 (Radio Cadena Agramonte) – Cuba maintains its firm commitment to Latin American and Caribbean unity and integration to achieve the development and well-being of our peoples, Cuban Foreign Minister Bruno Rodríguez said this Monday in Santiago de Chile.
Speaking at the II Ministerial Meeting of the Forum Community of Latin American and Caribbean States (Celac) -China, Rodriguez said that in that endeavor Celac members will continue to promote relations with that Asian nation.
We appreciate the importance of continuing to strengthen the bonds of cooperation and friendship within the framework of the Celac-China Forum, based on the opportunities it offers to take on the challenges of a complex global scenario, he said.
The Cuban Foreign Ministry published in its Twitter account moments of the intervention of the Rodriguez, who recalled that Cuba has the privilege of being the first country in Latin America to establish diplomatic relations with China.
A tweet refers that within the framework of the Forum, the Cuban foreign minister met Monday with Luis Videgaray, Secretary of Foreign Affairs of Mexico, and together they reviewed the bilateral agenda, the regional issues of interest and the current situation of Celac-China.
The account of the Cuban Foreign Ministry reported that as part of an intense day of bilateral meetings, Rodriguez also met with the Minister of Foreign Affairs and Human Mobility of Ecuador, María Fernanda Espinosa.
The Celac-China Forum, whose first edition was held in January 2015 in Beijing, is one of the most important cooperation spaces with extra-regional partners in the Community.
According to official sources, currently Latin America and the Caribbean is the second destination of Chinese investments, after Asia, while that Asian country has established itself as the second commercial partner of the region. (ACN)