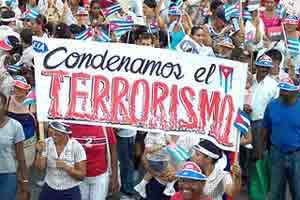 HAVANA, Cuba, Jun 13 (acn) Cuba ratified at the UN General Assembly its commitment to fight all acts and forms of terrorism.
We reiterate our deepest rejection and condemnation of those acts, disregarding any the motivations, places, targets and actors, said Cuban diplomat Tanieris Dieguez at a forum on terrorism and its causes.
The diplomat also noted that all arbitrary and unilateral measures, acts of aggression, covert actions, unilateral sanctions and the blacklisting of countries with political aims are unjustifiable.
Dieguez denounced the impunity and double-standard policies on the issue, which are tools used by some superpowers to pretend that they are facing terrorism only to back their own interests.
Cuba also expressed its firm and unquenchable willingness to collaborate with multilateral efforts to put an end to all terrorist acts, methods and practices.