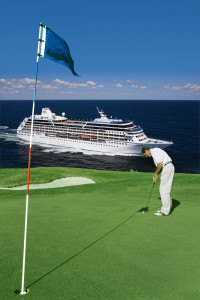 The Journey–It all began in Montego Bay, Jamaica, for nine golfers who flew in from the U.S. who were seeking to experience the wondrous land of Cuba.  The voyage, March 20-28, 2014 would entail 8 days, 7 nights aboard the luxurious Cuba Cristal cruise ship in warm, calm Caribbean waters with extraordinary vistas. With cruising speeds of 18 knots, an array of amenities and comforts on the upscale vessel included spacious staterooms and suites, elegant lounges, restaurants, internet corner and open promenades.  Meals, activities and entertainment aboard ship were exquisite.
All 480 staterooms on-board the Cuba Cristal are equipped with shower, wash closet, wash basin, telephone, hairdryer, and TV and can accommodate a maximum of 1,200 passengers on it 9 decks.  There was always something to keep guests entertained, including 3 restaurants, 4 bars, theme lounges and an awesome disco.  Those wishing to try their luck played for hours in the full casino and some winnings were had.  Persons wishing to stay wired could be 'on the grid' in the ship's Internet Corner where upload and download speeds were surprisingly fast.  Specialty meetings and our group orientation was held in one of the ship's many  conference rooms where views all around were beautiful out of large floor to ceiling windows.  An on-board photo shop gave us plenty of options to purchase any needed batteries, discs, chargers, film and more.
We especially enjoyed the Metropolitan Show Room where live entertainment featured spectacular dance shows, floor-to-ceiling ribbon acrobatics and humorous comedy.  The Emporium offered lots of duty free souvenirs, perfumes, clothing, liquor, cigarettes and the such. The Travel Value Shop offered daily discounts on shirts, handbags, sandals and more great vacation gear.
Once the sun was up, a long dip in the ship's swimming pool made for a great cooling off. The jacuzzi stayed full for relaxing souls and the fitness center helped keep everyone ready for  the next shore excursion trek.  An on-board beauty salon was perfect for preparing for an evening of elegance and appointments were easily had, along with a variety of spa services and massages as terrific prices.
Most of all, the ship was fully air-conditioned and used stabilizers to keep the rocking to a minimum.  There was access to telephones, fax, satellite telephone and most importantly a physician was on board at all times.
Golf at Varadero Golf
Located just 2-hours outside of Havana, a deluxe shuttle van carried golfers, bags and clubs on a marvelous journey with exceptional landscape views.  An onboard tour guide highlighted features along and way and familiarized all on local customs, Afro-Cuban religions, native flora, industry, and other great information.  Varadero, the first 18 hole Golf Course in Cuba, was designed by architect Les Furber. Once at the course, the 18 hole, 72 par did not disappoint with its 6269 yards.
Tours took travelers to the colonial village of Cienfuegos and Trinidad, beach barbecue in the sunshine at Punta Frances on the Isle of Youth, live burlesque dinner show at the famous Tropicana outdoor night club, stunning countryside visit to Holguin, and a final stop in Santiago De Cuba, the second largest city in Cuba, home of legendary run, exotic fruits, sugar, rum, tobacco, and cigars, the most important urban area outside of Havana.
About Cuba:
Circumnavigating the only island country in the Caribbean, Cuba is the largest of the West Indies group (equal in area to Pennsylvania).  Arawak (or Taino) Indians inhabited Cuba when Columbus landed there in 1492, many died from diseases brought by sailors and settlers. Havana's superb harbor made it a common transit point to and from Spain. In the early 1800s, Cuba's sugarcane industry boomed, requiring massive numbers of black slaves until slavery was abolished in 1886.
Most people today remember Cuba during 1956, when Fidel Castro Ruz launched a revolution from his camp in the Sierra Maestra Mountains.  The U.S. ended military aid to Cuba in 1958.  In 1961, a U.S.-backed group of Cuban exiles invaded Cuba. Planned during the Eisenhower administration, the invasion was given the go-ahead by President John Kennedy, although he refused to give U.S. air support. The landing at the Bay of Pigs (April 17, 1961) was a humiliation. The invaders did not receive popular Cuban support and were easily repulsed by the Cuban military.
The Cuban Missile Crisis of 1962 resulted from a Soviet attempt to install medium-range missiles in Cuba—capable of striking targets in the United States with nuclear warheads. President Kennedy promised a U.S. blockade of Cuba to stop the missile delivery. Six days later, Soviet premier Nikita Khrushchev ordered the missile sites dismantled and returned to the USSR in return for a U.S. pledge not to attack Cuba.
Russian aid, which had long supported Cuba's failing economy, ended when Communism collapsed in Eastern Europe in 1990. Cuba's foreign trade also plummeted, producing a severe economic crisis. In 1993, Castro permitted limited private enterprise, allowed Cubans to possess convertible currencies, and encouraged foreign investment in its tourist industry.
The Bush administration again tightened its embargo in June 2004, allowing Cuban Americans to return to the island only once every three years (instead of every year) and restricting the amount of U.S. cash that can be spent there to $50 per day. In response, Cuba banned the use of dollars, which had been legal currency in the country for more than a decade.
In Feb. 2008, Fidel Castro ended 49 years of power when he announced his retirement. The 81-year-old, who ruled Cuba since leading a revolution in 1959, said he would not accept another term as president. Raúl Castro succeeded his brother, becoming the 21st president of Cuba on Feb. 24, 2008.
LITTLE KNOWN FACT:  It is estimated that almost 400,000 Africans were brought to Cuba during the years 1835-1864. (That's roughly 1150 per month for 29 years!) As early as 1532, the blacks formed 62.5 percent of the population. In 1841, African slaves made up over 40% of the total population.   In addition it is estimated that from 1913 to 1927 40,000 blacks a year were smuggled in.
African American Golfer's Digest