My father, usually a quiet man, burst through the door and hustled the family in front of the television set. He said we were on the verge of something terrible and we needed to see and understand. It was October 22, 1962. My father, a career officer at the C.I.A., seemed distressed with things he knew that others did not.
We then watched in horror as John Kennedy described the Russian missiles west of Havana, capable of reaching our home in Bethesda, and the ordering of a quarantine that would bring us to the brink of global nuclear war.
For the years following, my father worked noiselessly within the Company as it plotted a range of assassinations against Castro, including poisoned cigars. Finally, dad suffered a nervous breakdown, and took an early retirement. For me, in the sparse furniture of my mind, Cuba was a matchstick inches away, ever ready to strike the frictional surface of our shores.
With time, however, the rhetoric hushed, and reports of American travelers finding hospitality and warmth increased. My old friends Michael Kaye and his wife Yolanda, passionate cyclists who have turned their tandem through Europe, North Africa and the Americas, reported that their favorite place to recycle was Cuba. In fact, they asked if I might join their next wheeled adventure, a swing through central Cuba with a daily agenda of community, cultural and educational visits and, collapsing the many floors of memory, I agreed.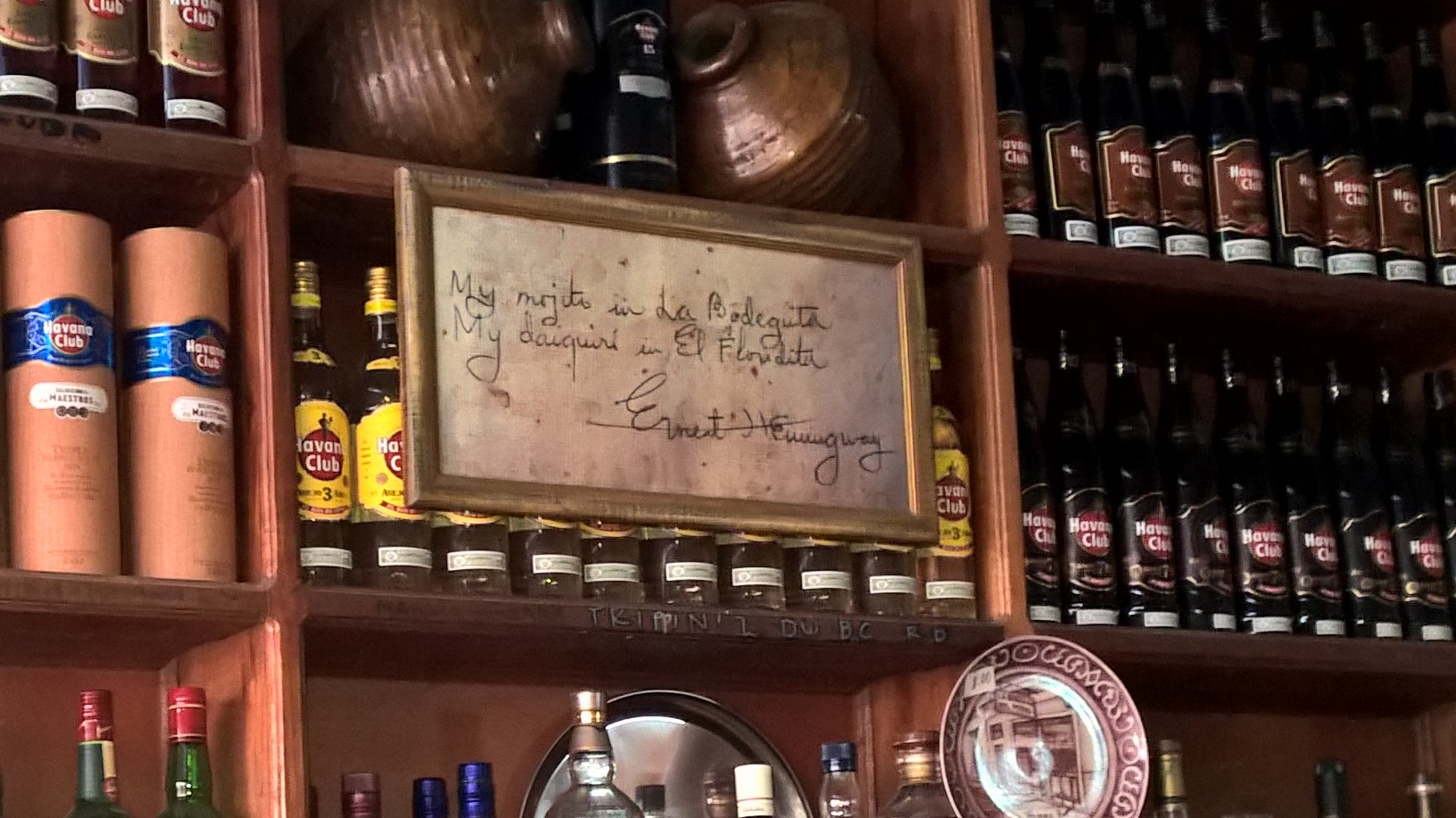 So, with a small group of friends, and my seven-year-old son Jasper, we arrive Havana and wade through a mob of greeters holding signs for tour companies. Our outing is not so fancy, and so we grab a taxi, a Hyundai and, passing the parade of head-turning late 50s American sedans with swooping gull wings for fins, we head downtown, fleeting along the way a huge billboard, "To Hope," with an image of a missile breaking into a dove.
We check into the Sevilla, the first luxury hotel in Havana, filled with photographs of the notorious who strode through: Meyer Lansky, Lucky Luciano, Al Capone, Graham Greene, Joséfine Baker (who had been refused accommodation at the Hotel Nacional because of the color of her skin) Joe Louis, Ted Williams and, of course, Hemingway, who supposedly wrote For Whom the Bell Tolls between and over mojitos here.
In the sweet liquid light of the Cuban morning, we board a Chinese-made King Long tour bus, the same model I used in North Korea a couple years ago. Our guide, José, says King Long means "guaranteed for six months."
"How long have you had it," someone takes the bait.
"Twelve months."
The bus is pulling a customized trailer (with a blown-up picture of a Cuban on a bike carrying a lamb on his back) that holds all the bikes, parts and some sultry wrenches, so we are self-sufficient for the journey.
A few minutes down the road, we pass the Christopher Columbus Necropolis, "the largest concentration of private property in Cuba," so says José. "People are just dying to get in," pipes Michaela Guzy, on assignment to produce travel videos of our trip. Many sites are named after the Italian-borne explorer, as he landed here October 28, 1492. He first thought he had entered Asia's mainland, and was convinced that the name "Cuba," which was what the aborigines called it, was the Indian name for Japan. Rather, it is a Taino word meaning "where fertile land is abundant."
We drive five cool hours east to Santa Clara, the gay capital of Cuba, says José, who pays for our snacks with Cuban three dollar bills. It is also a wealthy city, which seems antithetical to the system, but money pours in from Cuban relatives in Miami, and tourism, which long ago passed sugar as the biggest generator of foreign exchange, and is making a significant difference. Most everything is done in cash (no U.S. credit cards accepted yet), and José shares that if you see someone walking down the street hunched over from a sore back, it likely means he is rich because of the money stashed in his mattress.
We park at the sprawling Hotel La Granjita, which, with its large aqua-blue pool surrounded by coconut palms and towels twisted like swans on the bungalow beds, seems like it better belongs in Cancun. Here, beneath a canorous refrain of birdsong, we adjust and mount our steeds, Specialized Sirrus Comp Disc Carbon Hybrids with 20 gears.
A banana-shaped and colored Adams Trail-a-Bike is attached to the back of mine, on which Jasper will ride. After a few spins around the parking lot we head off down the road, winding through chaotic traffic, over to Che Guevara's mausoleum. Che led the rebels in the battle of Santa Clara, a pivotal victory over Batista's army, which in turn led to the triumph of the Revolution, which in turn led to that moment in which the world was on the nuclear threshold. It all had an aleatory beginning — when the young, privileged medical student Ernesto Guevara took a motorcycle trip through South America and was exposed to the widespread poverty, hunger and disease. He returned transformed, radicalized, compelled to change the world. The rest is history. Today, Cuba has weaved the rope of many small advantages: It has a literacy rate of 99.8 percent; the health system is among the world's best, and the country has a lower infant mortality rate than the U.S. And, they watch all the hot American T.V. shows, such as Deadliest Catch, on pirated thumb drives.
Richard Bangs, We said go travel
April 27, 2015