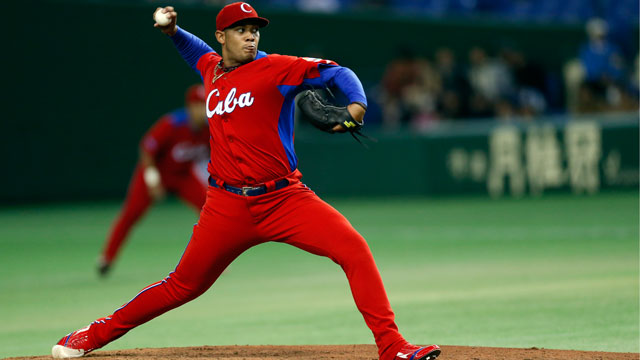 Havana, Feb 7 (Prensa Latina) The Cuban Baseball Federation (FCB) let know today the payroll of the 28 members of the national baseball team, that will participate in the World Baseball Classic starting March 7.
The team, yet susceptible to changes, according to the statement, is composed by three catchers, seven infielders, five outfielders and 13 pitchers, of which 10 are right-handed and three left-handed.
Also, FCB said that Cuba is hosted to the possibility granted by the organizers of counting on a catcher for practice, to include another baseball player, eligible to ascend to the official list, when the coaches decide.
Precisely, the direction of the team will be headed by strategist Carlos Martí, current champion of the national series of baseball with Alazanes of Granma and with a great performance in the Caribbean Series Cualiacan-2017 (Mexico), when they reached the semifinals.
Marti will be assisted in his duties by Ramón Rodríguez and Mario Vega, as well as Orestes Kindelán as batting coach and pitching coaches Orelvis Avila and Ciro Silvino Licea.
Cuba will play the first round of the competition agreed from March 7 to 11, needed a match tie-break, in Group B, based in Tokyo, also composed of Japan, Australia and China.
The matches will be at the Tokyo Dome Stadium, with capacity for 46 thousand fans.
Cuban Team for 2017 World Baseball Classic:
CATCHERS:
-Frank Camilo Morejón.
-Osvaldo Vázquez.
-Yosvany Alarcón.
—
INFIELDERS:
-William Saavedra (1B).
-Guillermo Avilés (1B).
-Carlos Benítez (2B). -Yurisbel Gracial (3B). -Jeferson Delgado (3B).
-Alexander Ayala (SS).
-Yordan Manduley (SS). —
OUTFIELDERS:
-Alfredo Despaigne.
-Frederich Cepeda.
-Víctor Víctor Mesa.
-Roel Santos.
-Yoelkis Céspedes.
—
PITCHERS:
-Freddy Asiel Álvarez (R).
-Yosvany Torres (R).
-Yoanny Yera (L).
-Vladimir García (R).
-Lázaro Blanco (R).
-Vladimir Baños (R).
-Alaín Sánchez (R).
-Raidel Martínez (R).
-Leandro Martínez (L).
-Miguel Lahera (R).
-Liván Moinelo (L).
-José Ángel García (R).
-Noelvis Entenza (R).
—
PRACTICING CATCHER:
-Raúl González.
hr/tac/ymr/amm