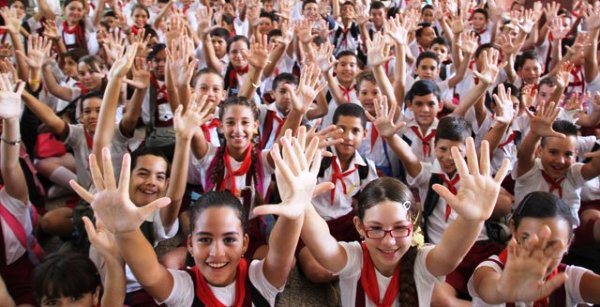 Infancy is the life stage which is defining in the formation of the personality of the human beings, who claims of affection and a special dedication.
This is the period of the programming, the acquisition of habits and skills that will last forever; hence the basic care, interpersonal relations, and access to education, health, culture and healthy entertainment represent inalienable rights.
However, not all contexts the little ones enjoy such assurances, contained in the Convention on the Rights of the Child since 1989.
Data produced by the United Nations Children's Fund indicate that at present more than 600 million children live in poverty; close to 400 million are forced to work; more than two million are forced into prostitution, and a very high number dies as a result of diseases, or are victims of trafficking.
Concern for the welfare, the brotherhood and the rights of children and girls constitutes a maximum in the Cuban State, an idea that gained strength after the triumph of the revolution on January 1st, 1959.
As well, the existence of various legal instruments that protect the rights of children is a priority in our country, guaranteed in the Constitution of the Republic of Cuba, the Law on Maternity Leave to the worker, the Family Code, the Decree Law of children without family protection, the Decree law that relates to the care of children with behavioral problems, among others.
In addition to the free access to health, education, social welfare, culture and sport, Cuban society shows great concern for the healthy entertainment and the personal fulfillment of their infants.
Each June 1st, we celebrate the International Children's Day, a day to meditate in the future, in the contagious joy of those who know how to love, in the hope that our José Martí entrusted the world. (Text: Indira Lopez curas de aguas/Radio Cadena Agramonte. Photo: Archive)
Radio Cadena Agramonte, June 1, 2017