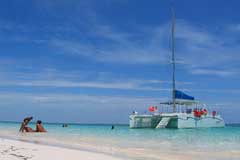 Camaguey, Sep 29.- In accordance with the need to promote tourist development and the creation of goods and services, a group of entities works to turn Camaguey province into one of the most important tourist destinations in Cuba.
The investments carried out in the north area of the territory are cornerstones for consolidating this important branch of the economy.
In addition to consolidating the tourism of city, which attracts the attention of national and foreign visitors in the last years, thanks to its wide range of offers, Camaguey works to foster also two areas of development that in 2016 will have a modern and functional infrastructure.
Henceforth, they will build new hotel premises in north keys, belonging to Jardines del Rey archipelago, with more than 38 thousand rooms, which – according to forecasts – should generate more than 20 thousand new work places and an important number of housing for workers.
Recognized for its traditions and its Culture, Camaguey province has at present its main resort in Santa Lucia, with an extensive area of beautiful beaches of fine white sand, surrounded by the second largest coral reef in the world. (Alex López Almaguer/Radio Cadena Agramonte).