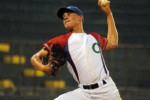 Cuba 15U National Team defeated 6-3 the best team in the World Cup of the category Sunday night and got crowned as the new champion. The U.S. had concluded the tournament with the best record (9-1) and outscored its opponents 107-29. However, Cuba (8-2) had the better team Sunday night as it trailed 3-1 entering the sixth inning, but rallied to score the game's final five runs to claim victory.
Cuba jumped on top early as a single by Ariel Diaz with one out gave Cuba a base runner for Ernesto Martinez. Martinez knocked an RBI single to left field with two outs to give his squad the early 1-0 advantage.
The U.S. responded in the bottom half of the first with two runs to jump in front. Turang and Noah Campbell (Durham, N.C.) both reached base to start the frame before Royce Lewis (Aliso Viejo, Calif.) bunted them over. Raymond Gil (Miami, Fla.), one of the heroes from the win over Mexico Saturday night, plated the first run as he grounded out to the shortstop to easily score Turang. One batter later, Steven Williams (Albany, Ga.) cracked a single up the middle to score Campbell and give the U.S. its 35th and 36th two-out RBI of the tournament.
Lewis added to Team USA's lead in the fifth inning as his RBI single to right field scored Turang to up the score to 3-1. Turang reached base on his second infield single of the night.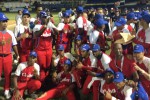 Cuba wouldn't go away, however, as a monster two-run double from Martinez in the top of the sixth inning tied the contest at three and ultimately set it on a path to victory. Martinez couldn't be stopped at the plate all day as he finished with three hits, including two doubles, two RBI and a run scored.
That would be all the runs starting pitcher Morejon would need as he turned in a brilliant effort to lead Cuba to gold. Morejon, who threw an inning in relief in Cuba's 2-1 victory over Panama Saturday, went the distance against the U.S. Sunday as he hurled 124 pitches. He struck out 12 U.S. batters, and gave up three runs on seven hits and a walk.
Earlier in the day, 2012 15U Baseball World Cup champions, Venezuela, defeated Chinese Taipei by a score of 13-3 (7 innings) to earn the bronze medal.