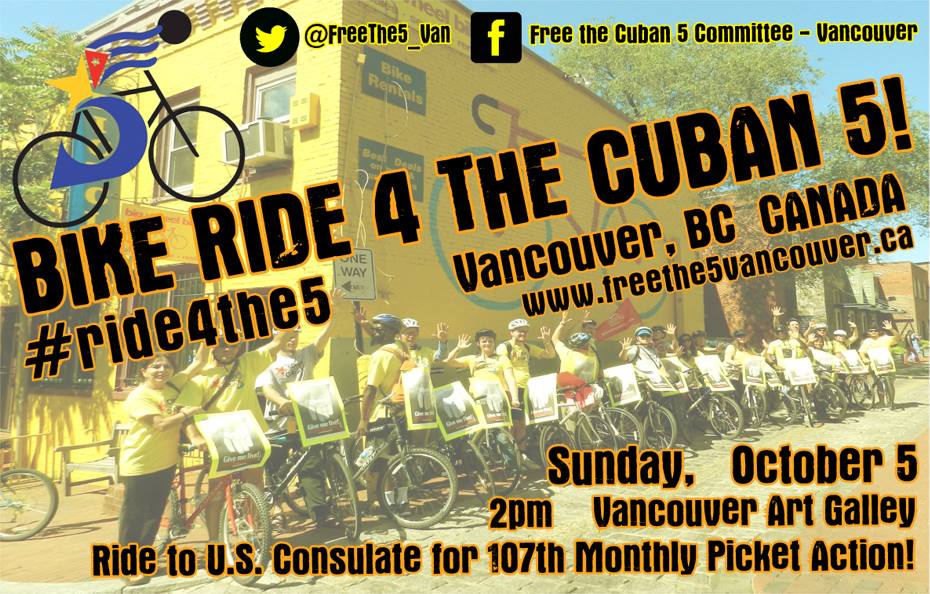 SUNDAY OCTOBER 5, 2014
2:30pm: Bike Rally Start Point
Vancouver Art Gallery (Robson St.)
3:30pm: Bike Rally End Point & Vancouver's 107th Monthly Protest Action at U.S. Consulate
1075 W. Pender Street @ Thurlow Street, Vancouver
Press contact: Noah Fine 604-719-6947
Supporters of the Cuban 5, political prisoners held in U.S. prisons, are organizing a protest on bicycles through the downtown core of Vancouver this Sunday, October 5. "We're always looking for new and interesting ways to raise awareness about the case of the Cuban 5," said Noah Fine, Free the Cuban 5 Committee-Vancouver Co-coordinator. "We've been bringing our message of freedom for the Cuban 5 to Vancouver streets for almost 10 years. This time we are taking our protest to another level, adding two wheels and a new way to reach out to people in Vancouver who believe in justice and human rights," he continued.
The idea to organize bicycle protests for the freedom of the Cuban 5 came from one of the Cuban 5, Rene Gonzalez, who returned to Cuba after 13 years of unjust imprisonment in the U.S. The first ever Bicycle Rally for the Cuban 5 was organized in June 2014 in Washington DC, led by members of the Free the Cuban 5 Committee – Vancouver. Since then there have been bicycle protests in New York, Belgium, San Francisco, and Cuba. The October 5 bicycle ride for the Cuban 5 in Vancouver is the first to take place in Canada.
The October 5th bicycle protest and the 107th monthly picket action in Vancouver also mark the 38th anniversary of the 1976 bombing of Air Cubana Flight 455. This bombing, which killed all 73 innocent passengers on board, was masterminded by anti-Cuban terrorist Luis Posada Carriles. While the Cuban 5, anti-terrorists who saved lives, remain locked behind U.S. prison walls for over 16 years, the anti-Cuban terrorists responsible for this atrocious act and the deaths of over 3400 people in Cuba continue to walk free.
The "Cuban 5" are political prisoners wrongfully arrested and convicted of "conspiracy to commit espionage" in the U.S. Their "crime" was to infiltrate and expose U.S.-based anti-Cuba terrorist organizations who have been targeting Cuba since 1959. The Free the Cuban 5 Committee-Vancouver is one of over 300 committees working worldwide to demand their immediate release.
News Media are invited to cover the event.