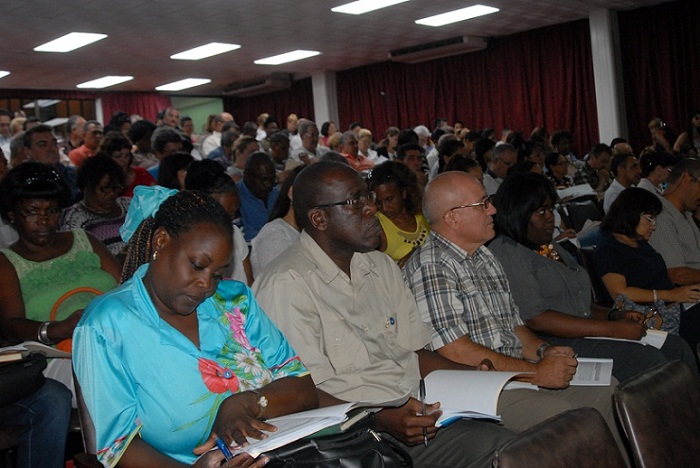 July 5 (Radio Rebelde) The Provincial Assembly of the People's Power in Havana will hold its second ordinary session on Sunday where compliance with the Economic Guidelines and the execution of the Budget to the end of April will be informed.
The delegates will approve, at the Cojimar Convention Center, the temporary working commissions that will evaluate the outcome of the services to the population and will give their opinion on the reports of the Provincial Administration Council regarding the attention given to the population's concerns or issues.
The Secretary of the Assembly, Carmen Cristina Jimenez Tuero told the press on Wednesday that they will also offer details on the outcome of the 2017-2018 school year and the preparations for the next.
The provincial director of Education, Yoania Falcon Suarez that 97.3 percent of the students assisted to their classrooms by the end of May, superior to the same month last year.
The results of the entry exams to Higher Education increased in three subjects compared to the previous school year, it being Cuban History, which grew in five percentage points, she said.
She explained that as part of the preparations for the next school year, all of the study materials are ready and the uniforms began to be sold to the population on May 22nd, except for the secondary, polytechnic and Pre-university level, which will begin on July 20th for the students that continue and the 25th for the new enrollment.
The projection towards the enrollment in pedagogical schools for the 2018-2019 period is currently at 80.8 percent up to now and the municipalities with the lowest results are Plaza de la Revolucion, Cerro and Habana del Este, said Falcon Suarez.
The working commissions of the Provincial Assembly begins on Saturday while the plenary session will start on Sunday and where the population will be able to ask questions or express their concerns related with the issues through the telephone numbers 7 7664794 and 7 7664695.

by Jeniffer Rodriguez Martinto