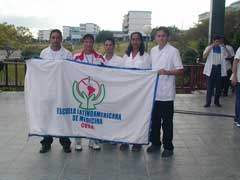 Asuncion, Aug 12.- Another 80 Paraguayan doctors who graduated from scholarships granted by Cuba are scheduled to return home in flights set for Wednesday and Thursday, it was known here.
These batch was preceded by another four students who earned their degrees in other specialties, including agricultural engineering, veterinary medicine, physical education and comprehensive rehabilitation.
Regarding the docs expected to return this week, a total of 39 will arrive to Asuncion tomorrow and another 40 will arrive early Thursday, according to the Association of Parents of Paraguayan Students in Cuba. (Prensa Latina).