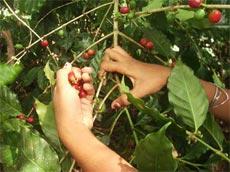 Santiago de Cuba, Cuba, Mar 5.- The remains of the ancient coffee plantation St. Paulina, built in the nineteenth century by French colonists, were found by specialists in archeology from the Office of the Curator of the city (OCC by its Spanish acronym), in the rural community of San Felipe.
Members of the project Los caminos del café (The roads of coffee) in Ramon de las Yaguas People's Council, found in the undergrowth this architectural wonder, thus described by Yaumara López Segrera, in charge of the team.
In an exclusive interview with ACN, she explained that this is a very interesting coffee plantation built in terraces, which amazes researchers and locals, who claimed not to imagine that vegetation could hide this heritage.
The discovery is located half a mile from the former Fraternidad hacienda, currently rescued with funding from Malongo Foundation, from France, said Lopez Segrera.
That place, she said, will become an interactive museum, where it will be known in detail the history of coffee cultivation and shall also be the starting point of the archaeological park which will link ruins of the first plantations in southeastern Cuba, declared World Heritage Site by UNESCO .
According to archival documentation, in the second half of the nineteenth century the latter fell into disuse as productive hacienda, which caused the deterioration of its structures, but the ruins have survived the passage of time.
One hundred coffee haciendas were built by French families and their slaves in the mountains east of the country in the eighteenth and nineteenth centuries, where they fled after the Haitian Revolution. (acn).
Radio Cadena Agramonte, March 5, 2015